APS Turnaround Strategy for Low Performing Schools
---


Atlanta Public Schools is implementing a bold strategy to increase student achievement dramatically and to transform its lowest-performing schools through comprehensive direct services to students, recruitment and development of top turnaround leaders and teachers, school operations changes and education partnership opportunities.
The APS Turnaround Strategy includes input from district and school leaders, community stakeholders, parents and school-based staff. Leaders aligned the strategy around a set of guiding principles: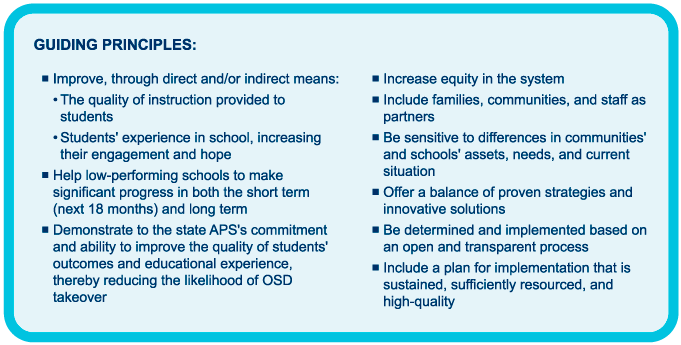 APS used these principles to recommend several changes that offer improved academic programming and changes to school operations across the district.
The next phase of the strategy focuses on several key areas that include high-impact tutoring; math and reading specialists to directly support students to achieve math and reading skills; extended learning time; a Spring Break Academy; recruitment of respected turnaround school leaders; targeted professional learning for teachers; and accelerated roll-out of social emotional learning in schools. Several components of this work are now underway.