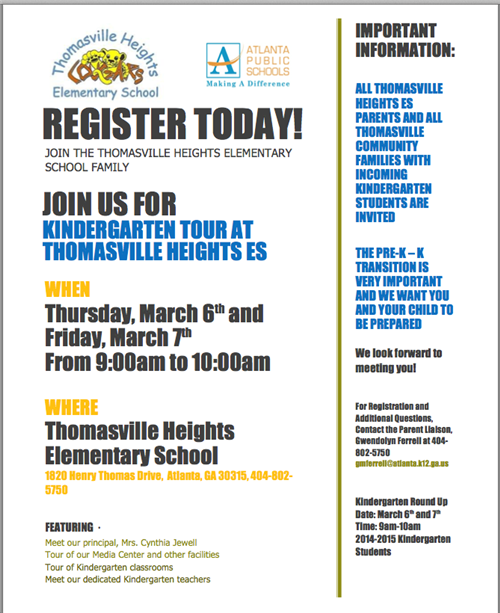 Thomasville Heights Elementary
Career Day 2014
March 10, 2014
We need you to volunteer as a Career Day guest speaker
You are invited to support Thomasville Heights Elementary School students by participating in this year's College and Career Readiness Day (CCRD) scheduled for Monday, March 10, 2014 from 9:00 a.m. – 1:30 p.m.
The purpose of College and Career Readiness Day is to encourage and motivate students, kindergarten through the 5th grade, to focus on success in school and to start preparing for college and their future careers TODAY! Our goal is to increase our students' awareness so that they understand they are competing in a global society with people from around the world, and that they must be ready for the challenge.
We are looking for volunteers or community members who can volunteer their time to share their career choices with our students. Guest speakers will be asked to speak to students for 30 minute sessions. Recommended format includes: related school subjects, education/training, personal skills, typical day, child friendly games and presentations, hands on activities or visuals, etc.
Please complete the following form and return it to Mrs. Ferrell by Friday, February 28, 2014. Please provide contact information so we can send you a confirmation regarding the schedule and format suggestions for your presentation. Please feel free to contact Mrs. Ferrell at (404) 802-5750, fax at (404) 622-6130 or via e-mail at gmferrell@atlanta.k12.ga.us if you have any questions.
Celebrating Black History at Thomasville Heights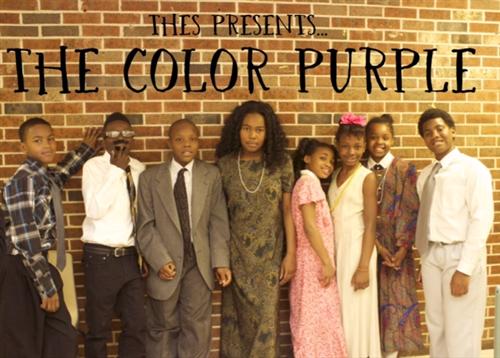 Subscribe to receive updates, notifications and reminders!
Thomasville Heights Elementary
"Top Ten Expectations"
____________________________________________________________________________
1. Use Appropriate School Language

- No Profanity


2. Use Legal Name.

- No Nicknames


3. Dress Appropriately

- No night wear of any kind, sagging pants, nor head gear.


4. Respect other people's comments opinions, and ideas.

Be positive and enjoy life.

- No negative remarks or fighting.


5. No matter what the circumstances always be honest.

Even if you have done something wrong, it is best to admit it.
- Don't take things that don't belong to you.


6. Place all trash in the appropriate areas (Trash Cans).

Clean up after yourselves.

- No littering.


7. Ask for permission to leave the classroom

- Do not leave a location without asking first.


8. Accept that you are going to make mistakes. Learn from them and move on.


9. Come to school daily on time.


10. Be the best person you can be!
Cynthia Jewell, Principal
Thomasville Heights Elementary
1820 Henry Thomas Dr., SE 30315
404-802-5750 phone