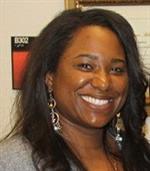 It is my pleasure to welcome you and invite you to take an electronic visit to D.M. Therrell School of Law, Government and Public Policy. I hope you will find the answers to the information you seek by visiting our many areas of focus. LGPP is the Atlanta Public School system's secondary Law and Government school designed to develop students' interests, skills, and abilities in the law.
We celebrate a most dedicated and capable staff of teachers, counselors, and support personnel. Our student body is the most talented, creative, hardworking, and cooperative group of young adults you will find anywhere.

Enjoy exploring the school through this web site and don't forget to visit us.
If we can provide additional information, or if you would like to visit our school, please call us at (404) 802-5345. We look forward to sharing our educational opportunities with you.

Sincerely,

Libra B. Royster
Principal