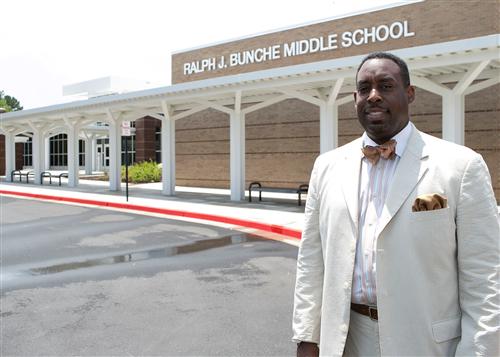 August 12, 2016
Dear Bunche Middle Parents and Guardians,
Welcome to the start of another great school year! As I embark on my fifth school year as your principal, it has been an honor and a privilege to serve our community. As we continue to move forward with the Therrell Cluster's plan to implement our signature instructional framework, I am proud to inform you that Bunche Middle is now an International Baccalaureate (IB) Candidate School. By using the IB framework, we will develop inquiring learners who are motivated to succeed.
Continuing our focus on "Collaboration, Commitment, and Culture …. While Maintaining our Legacy of Excellence" we will ensure all students become knowledgeable, responsible, caring and contributing members of society.
We have completed the first full-week of instruction. I am happy to announce that Bunche has currently enrolled 843 students. Due to this new growth, we are experiencing some growing pains. Please be patient, as we are aggressively working to balance the class sizes. We are hiring new staff and requesting additional teachers through internal leveling.
In an effort to move Bunche closer towards our goal of to become a GA School of Excellence and National Blue Ribbon School, the following will be implemented:
· An expanded school-wide focus on Social Emotional Learning (SEL) and Restorative Justice practices, where adults effectively use de-escalation strategies. Students and teacher will co-exist in an environment where positive attitudes are encouraged and celebrated. We will learn to show empathy, establish positive relationships, and make responsible decisions
· Professional Learning Communities to give teachers the opportunity to effectively plan and implement the new GA Standards of Excellence in Math and Reading/ELA in preparation for the GA Milestone Assessments
· Use of the APS mandated eight (8) common instructional best practices and core instructional frameworks
· School-wide emphasis on writing across the curriculum in all four core contents and connections classes; explicit teaching the writing process in ELA classrooms (Interactive Notebooks, Writing Journals, and Student Portfolios used)
· Positive Behavior Intervention Strategies (PBIS) will improve school culture, climate, and student attendance
· A concerted effort to improve the overall customer service experience among students, parents, community members, and other stakeholders
· Social Media, Email, Smartphone Apps, and regular website updates will continue to support more effective and consistent communication with parents
· Teaching and planning using the International Baccalaureate (IB) instructional framework with an emphasis on students' IB learner profiles
· Newly hired veteran instructional staff to ensure that students are exposed to the Fine, Visual and Performing Arts
· An "open-door" policy where parents are welcomed and invited to visit the school to provide continuous input for change
Moreover, our main focus is to provide all of our students with rigorous and relevant learning experiences where we teach children, as we would want our own children taught. Please be reminded that we are a uniform school; students are expected to be in uniform daily, including Fridays. Also, students are not allowed to use cell phones or other personal electronic devices during the school day. As your champion for academic excellence, I look forward to partnering with you this year.
Sincerely yours,
Mario M. Watkins
Dr. Mario M. Watkins
Principal