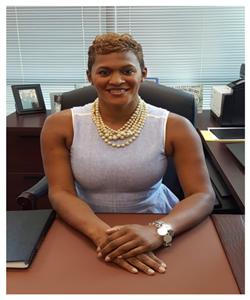 Greetings!
My name is Joi C. Kilpatrick and I'm very excited to be the new Principal of Boyd Elementary School! Boyd is such an amazing place filled with students who want to learn and a faculty and staff that wants to help them grow. I am thrilled that I am now a part of this wonderful family!
I a native of Huntsville, Alabama. Growing up, I always knew I wanted to be a 4th-grade teacher. After completing high school, I continued my education at Spelman College. While attending college, my desire to be an elementary school teacher, never disappeared and I chose to major in Elementary Education.
After graduating from Spelman College, I began my teaching career in the DeKalb County School District as a teacher at Chesnut Charter Elementary School. During my time at Chesnut, I had the opportunity to experience teaching fourth and fifth grade. Chesnut is where I discovered my passion to be a leader in the field of education. I wanted to not only help the children in my class but help the entire school, as well. Soon after this realization, I pursued a Master's Degree in Educational Leadership at Clark –Atlanta University. I continued my teaching career at Dunwoody Elementary School and Wynbrooke Traditional Theme School.
After years of teaching, I began a new endeavor in my career as an Assistant Principal in the DeKalb County School District. I served students and teachers at Oakcliff Traditional Theme School and at Montclair Elementary School. In that time I focused on the instructional growth of students and teachers. I was devoted to helping. All students and staff members reach their fullest possibilities. I continued my educational pursuits at Brenau University where I received an Educational Specialist Degree in Early Childhood Education.
As the new principal of Boyd Elementary, I am committed to the academic and social growth of our students. I am devoted and committed to the mission and vision of ensuring that our students succeed in every area. I also believe that having a positive and fulfilling relationship with all students, faculty, staff, parents and the community members is an important part of the educational success of the school. My door and heart are always open! I look forward to working with and serving the Boyd Elementary Community!
With a servant's heart,
Joi C. Kilpatrick, Ed.S