-AJA Scholarship
Grady students are invited to apply for Scholarships which are offered by the Atlanta Jamaican Association, Inc. (AJA).
AJA, is a non-profit Organization that was founded in 1977 to promote friendship, unity, and understanding between the peoples of Jamaica and the United States. As part of this effort, a scholarship program was established to assist college-bound high school and undergraduate students of Jamaican ancestry in their educational pursuits.
To qualify for financial assistance, each candidate is required to submit an application as well as a Curriculum Vitae. Subsequently, those students that meet the requirements will be invited to a face-to-face interview with members of the AJA Education Committee on Saturday, May 20th. Involvement in school and community activities, academic ability and financial need will be factors in the selection of the recipients. to On the day of the interview, applicants will be asked to write a one-page response on an assigned topic. Successful candidates will be notified by the end of May. The formal presentation will take place at the Annual Jamaica Independence Ball in Atlanta on Saturday August 12, 2017.
For more AJA Scholarship info and the related application form click here.
-Scholarship Opportunities
Are you looking for more $$$ for college? Do you need an easier method to do this? If so, there's a link you can use to search thousands of scholarships.
-3 New Scholarships for Males

2017 Fayola Sims Scholarship for Males
There are three new scholarships for young men:
The Ellis-Wade Scholarship
The Terrence Mixon Scholarship
The Sims-Fayola Foundation Scholarship
See attached document above for details.
DEADLINE: APRIL 15, 2017
These applications are also available on the SFFoundation website: http://www.sffoundation.org/scholarships.html.
-Connect 2 Connect Scholarship Opportunities
Click here to see a variety of scholarship opportunities for Grady students from the Connect 2 Connect organization.
-Seniors: More Scholarships for Males
There's another scholarship specifically for our male students of all ethnicities. See links below for the applications:
Hurry and apply both are due by FRIDAY APRIL 14, 2017.
-Georgia State University Scholarship
Are planning to attend GSU (Georgia State University)? If so there's a $2,000 scholarship for students who intend to enroll at GSU. Because this is scholarship created by a former Grady alum/parent, special preference is given to Grady students.
Apply Now Deadline: APRIL 28, 2017
See website for the application and more information: http://www.theleeproject.org/scholarship.html
-A Blast of New Scholarships!!
There are several scholarships that are not on the "Grady Scholarship Guide" link that are available. See attached documents and description below for details...
Are you a male intended to attend UGA? If so the Tau Kappa Epsilon organization has $1,000 and $500 scholarships available. See your assigned counselor for the actual application. Deadline: JUNE 1, 2017
Are you planning to attend a Catholic College or University? If so the Alumni Association of Our Lady of Lourdes has scholarship for you. See attached document for the entire application. Deadline: APRIL 24, 2017
The Make A Difference Foundation has two scholarships available; $1,000 and $5,000. See attached document for details. If you're interested and think you qualify, please see your assigned counselor for the actual application. Deadline: APRIL 15, 2017.
-AP World and US History Prep
Are you enrolled in AP World or US History? Do you plan to take the AP exam for either of these courses? If so, Edison Prep is offering a tutorial bootcamp. See attached flyer above for details.
-Important End of School Year Dates/Info
1) Visions of the Future (the traditional "pre-graduation" program) is Saturday, May 20, 2017, in Grady's Historic Gymnasium. Guests do not need tickets to enter this program.
2) Graduation is still Thursday, May 25th (the last day of school) at 3:30 PM at the World Congress Center: Hall C3, 285 Andrew Young International Blvd., NW, Atlanta 30313. Parking: Yellow Lot/Blue Lot/Gold Lot.
a. The school district is working out a "half-day" procedure for Grady, BUT this is the time for parents to prepare for "what to do if a graduate has siblings at another school where a half-day is not going to happen." I don't have an answer. Please ask the other schools this question if it applies to your family.
b. PARKING WILL BE WORSE THAN HORRENDOUS. Dekalb County Schools has decided to use the World Congress Center as their graduation site, YES, during the SAME WEEK AS ATLANTA'S GRADUATIONS. Stephenson High School will actually be two halls away from us. They don't limit the number of guests who can attend Dekalb County's graduations, so there will be throngs of people.

We recommend planning to be at the World Congress Center by 1:30 PM since there will be many other things happening at the Congress Center along with two graduations. MARTA may really be smarter. Picture this: Not just ONE school leaving the parking decks as another school is trying to park, but 2 or more schools trying to leave the parking decks while 2 or more schools are trying to park. TRUST US – this is looking BAD… Plan NOW in order to avoid missing graduation…
c. Remember that APS doesn't control how much the Congress Center charges for parking. Last year they told us $10, but they decided to raise it to $15 during come large graduations. Imagine that. We will let you know the cost as soon as they reveal that mystery.
d. Each student will receive a certain number of tickets. All guests who enter the hall will need a ticket. Small children who are able to sit in adults' laps have not needed tickets in the past.
e. Students will receive the tickets a day or two before graduation even though we will tell students approximately how many tickets they will receive around May 5th.
3) Graduation Rehearsal (the dress rehearsal) is at the World Congress Center Tuesday, May 23, 2017 at 8:30 AM. We want as many students as possible to provide their own transportation. Those who need to ride school buses will need to be at Grady by 7:00 AM. Imagine that… The buses will leave at 7:15 AM.
4) SENIOR FEES are currently $200. Use the following link to pay online: https://osp.osmsinc.com/Atlanta/Default.aspx. See the attachment for additional payment information/options. The attachment also contains other general graduation information.
5) Young Ladies, wherever you see a reference to "black" shoes, please disregard it. You have successfully convinced us that "nude" shoes look great with white. JUST MAKE SURE THEY ARE NOT BEACH SANDALS, ETC… Also, avoid high heels. See the attachment for "heel" requirements. High heels are not your friends on graduation day unless you possibly want to be remembered as tripping and falling – captured by your friends on SnapChat and/or Instagram. Imagine that… (Smile) There is A LOT of walking, and there are A LOT of steps… Last year a young lady's shoe came off as she went up the steps to the stage… Not a pretty memory.
-Scholarship: Do You Need Your Drivers License?
There's a scholarship available for students between the ages 15-17 who are interested in earning their driver's license. See attached document above for details
.
-Seniors: Do You Want Your Accomplishments in the Graduation Program?
We're in the process of creating the graduation commencement program. As a tradition, we'll be listing your accomplishments in the printed program. We encourage all graduating students to complete the attached form and return it to your assigned counselor.

Please note that this form must be accompanied with verifiable proof. This proof is must be in the form of a...
Letter from the college or scholarship organization
Printed email from the college or scholarship organization
A certificate from the college or scholarship organization
-Free College Essay Workshop
For college bound students ages 15-18, there will be a comprehensive college essay writing workshop. This is an ideal opportunity for you to understand what traditional 4-year post-secondary institutions are looking for with respect to submitting your personal narratives. See attached document above for details.
-John B. White Scholarship and Senior Data Form
Georgia's Own Credit Union formed a charitable foundation, aiming to further the community outreach efforts of the Credit Union through volunteer hours, financial literacy engagement, scholarships and more. This spring, they're excited to announce the launch of the John B. White, Jr. Scholarship, which honors the legacy of their long-time Board member and friend. The scholarship of $5,000 is a need-based award and is open to all first generation college students planning to attend a public Georgia university in the fall of 2017.
Details and application instructions can be found here: www.georgiasownfoundation.org/scholarship
.
DEADLINE: MAY 26, 2017
Also, please don't forget that your 2017 Senior Data Form is due by Friday, April 14. Be sure to have proof attached to your form. Proof can be a copy of an email, letter, or certificate from your colleges and/or scholarship agencies.
-GA Futures: Find Your College/Career Path

Are you interested to know:
What colleges you should attend?
What field of study you should pursue after high school?
What types of careers are best for you?
What salary you could earn in the field of work you're interested?
It's recommended that you complete inventories on GA Futures. This will allow you to have some answers to these questions.
1. Log into: https://www.gafutures.org/ (if you don't remember your login information, you'll need to create an account or have request to have your username or password emailed to you)
2. Then click "Career Exploration".
3. Next click on "Learn About Yourself".
4. Then click on and complete "Career Assessments" and/or "Interest Profiler".
-Fayola Sims Scholarship
Reminder that the Fayola Sims Scholarship is still open for male students. There are three scholarships offered by this organization. The applications will be available during this window via their website:
http://www.sffoundation.org/scholarships.html
See attached document for details.
-AP Exam Prep
Kaplan is offering a free live online AP exam prep program. The Prepathon series continues with AP Biology and AP U.S. History on April 22 and 23 from 1 PM - 5 PM ET. Students can join their live, interactive event to review content and learn strategies for the upcoming AP exams. For more information and to sign up for this free event, please review the attached flyer and visit: www.kaptest.com/apprepathon.
-Real vs. Reality GIRL$ Program: April 15, 10am-1pm
See attached flyer. Created by Enchanted Closet GIRL$ for girls. This program offers a lively and thought-provoking discussion with girls and adults who have worked in front of and behind the camera in the television industry. Visual images form impressions and impressions influence beliefs and behavior. Have you wondered how people (especially young people) are impacted by reality shows? Can they distinguish real versus reality? Do they compare themselves to reality television stars?
All young women ages 12-19 years old are welcome to come to the studio and join the discussion. Registration is required. No cost to attend. Breakfast items and lunch will be provided.
Register at https://www.surveymonkey.com/r/realvsreality
-Juniors and Seniors: Scholarships $$$ For You!!
There are scholarships available that current 11th and 12th graders can apply. Please go to this link for the applications and more details:
Seniors, please remember that your Senior Data Form is due FRIDAY APRIL 14, 2017 to be guaranteed that your accomplishments are published in the graduation program.
-Community Service: A Graduation Requirement
As a requirement for a diploma from Atlanta Public Schools, all students must complete at least 75 hours of verifiable community service/volunteer hours. The service must be performed at places that serve the greater good of the community at-large. Attached you'll find some activities through Grady's 21st Century Leaders program. Please see Ms. Van Atta room C323 for more details.
Also, it's highly recommended that you log all of your volunteer experiences into www.mygivingpoint.org. This is an online service that'll verify the legitimacy of your experiences and consequently creates a clean and efficient way for you manage your hours. In addition as a benefit, you'll earn community service honor cords upon graduation if you achieve 100+ hours.
There's a scholarship specifically for Grady graduating seniors from our CCC (College Career Center). See attached for the application. Please APPLY!!!
DEADLINE: EXTENDED TO TUESDAY APRIL 18, 2017
-HOPE Eligiblity, Calculating Your GPA, and Senior Data Form
Are you interested to know if you're eligible for the HOPE scholarship?
Because APS grades on a 100-point scale, attached to this email is a sample of how you can calculate your GPA on a 100 point scale.
It's absolutely vital that you submit your Senior Data Form with VALID PROOF to your assigned counselor. Valid proof can be a printed email from your colleges or scholarship agencies, a copy of your acceptance letter, or a copy of your military enlistment letter.
-Juice Bar Positions Available
R2R a progressive juice bar located approximately 7 minutes away from downtown Atlanta. Currently, they have two positions
available.

Please review the attachment above to determine if this may be a good fit for you. If it is a good fit, please mail their resume to resumes@r2rjuicebar.com or feel free to call 678.521.0208 if you have any questions.
-Chick-Fil-A Visit
Are you looking for a part-time job? If you're 16 years old and enjoy working with the public, then you should consider employment with the reputable Chick-Fil-A company.
Chick-Fil-A will be here on Grady's campus tomorrow Thursday April 20 located in the cafeteria hallway during all three lunch periods. Please make sure you stop by their booth to get application information.
-Dance 411 Summer Internship Opportunity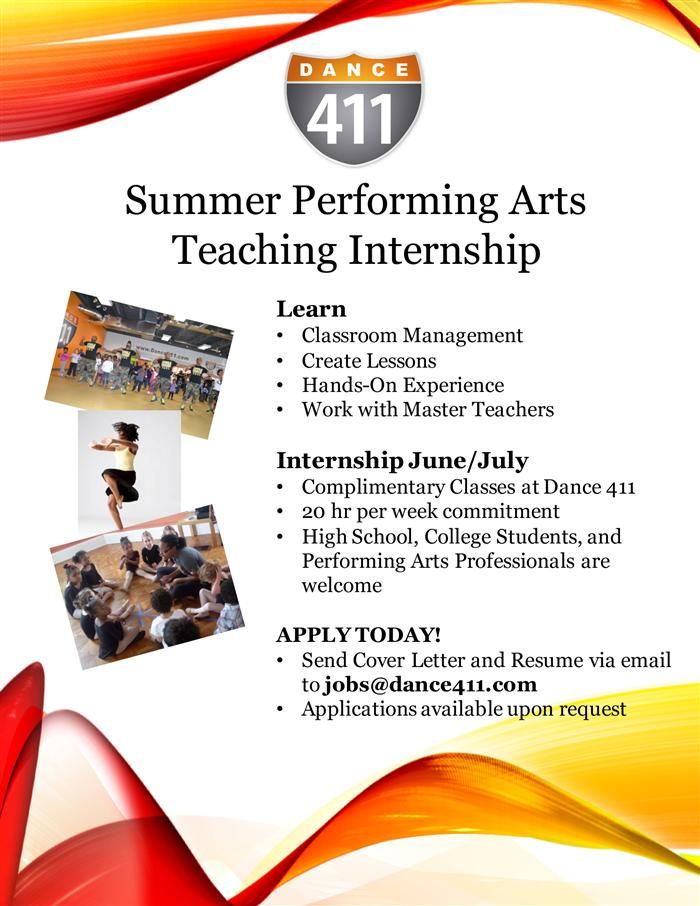 -Another Scholarship Due May 8!
There's another scholarship that you can consider, it's the David T. Howard Former Athletes In Action Scholarship. It's a $500 award. The application deadline is May 8th
See attached documents for the application.
-Do You Need Good Employment?
There's an employment opportunity with the Atlanta Fire Rescue Department. Very good salary! Please see the attached document above for details.
-Do You Need Summer Employment?
Are you 16 years old and need summer employment? If so, you should apply for a position at The Nook on Piedmont restaurant. They're in need of bussers and host personnel. If you're interested, please complete the attached application above and connect with manager Jasmine Egerton.
Email: Jasmine@thenookatlanta.com
Telephone: 404.745.9222 or 732.648.5463
-Seniors: Required Final Survey
As a final activity with the guidance department, please complete the 2017 Final Senior Exit Questionnaire survey.
DEADLINE: FRIDAY MAY 19, 2017
B~STEM Project
(
bstemproject.org
),

an organization dedicated to helping young girls and women engage, learn, and grow around business and STEM related disciplines across industries.
We are launching our 8-day virtual hackathon,
We Hack Too
, powered by Microsoft. This is
a dynamic opportunity for young girls and women to learn about product design and business development. The virtual hackathon takes place
June 23rd ~ 30th
. It includes an one-day launch event thats held inside select Microsoft stores. Young girls and college level women are invited to participate nationwide.
There are
NO FEES
to participate. Students interested can pre-register by visiting us at
www.bstemproject.org
.
Attached above is a flyer with more details.