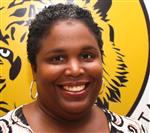 My name is Cynthia Gunner and I am thrilled to be the new Principal of Peyton Forest! I am originally from Beaumont, Texas and moved to Atlanta to attend Spelman College. I then went on to earn both a Master's and Specialist degree as well as a gifted and reading endorsement and a National Board Certification. I have a background as an elementary school general and gifted teacher, an Instructional Coach, and an Assistant Principal.
Peyton Forest holds a special place for me for a myriad of reasons. First, I began my teaching career at Peyton Forest over a decade ago as a fourth grade teacher. Both of my oldest children attended there as well. I then continued teaching in another elementary school and middle school in Southwest Atlanta. In addition, I have been a resident of this side of the city for over 20 years. Serving as the Principal of Peyton Forest means coming full circle and having a direct impact on the community in which I live. I have a vested interest in the success of Peyton students. And because I worked at a Southwest Atlanta middle school, I am well aware of what will be expected of our students once they leave Peyton Forest.
My vision as the new principal at Peyton Forest is to ensure that all practices are intentional, innovative, and inclusive. It will be a school that focuses on every child, every day. This means that every decision will be made with students' best interest at the forefront. It also means that a student or groups of students will not be allowed to fall through the cracks. My goal is to empower teachers in the building to be leaders and facilitators of learning and to cultivate an environment where each student's individual needs are addressed and strengths highlighted and celebrated.
I look forward to working with students, parents, teachers, and community members in making sure Peyton becomes the highest performing school in the state of Georgia!
Let's make it an awesome year!
Cynthia A. Gunner, Ed.S