Betsy Bockman, Principal
Coan Middle School
145 Fourth Ave. 30317
---
Betsy Bockman, Ph.D.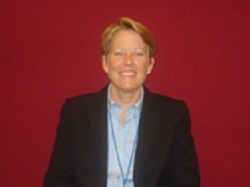 Education: Doctor of Philosophy (Ph.D.) in Educational Studies; Urban Education
Emory University, 1996
Educational Specialist degree (Ed.S.) in Educational Leadership
University of Georgia, 1992
Masters degree (M.Ed.) in Sports Administration
University of Georgia, 1984
Bachelors of Science (BS.Ed.) in Health and Physical Education
Georgia Southern College, 1983
Certification: L-7 Educational Leadership (Georgia)
PBT Health and Physical Education (P-12) (Georgia)
Experience:
July 2012-Present
: Principal Coan Middle School
July 2011-July 2012
: Interim Executive Director, School Reform Team 3
Atlanta Public Schools
J
uly 2003-June 2011
: Principal, Inman Middle School
July 2002-June 2003
: Principal, Garden Hills Elementary School (IB school) Atlanta Public Schools
July 2001-June 2002
: Headmaster,
First Montessori School of Atlanta
Adjunct Professor, Mercer University
July 1996-June 2001
: Principal, Morningside Elementary School
Atlanta Public Schools
Adjunct Professor, Kennesaw State University
June 1994-June 1996: Graduate Assistant, Emory University Center for Urban Learning, Teaching, and Urban Research in Education and Schools (CULTURES), Diversity Leader, Georgia Initiative for Math and Science, and Program Manager for the Center for Education in Science, Mathematics, and Computing (CEISMC) at the Georgia Institute of Technology
October 1986-June 1994: Cobb County Public School System
10/86--11/89: Physical Education teacher & high school coach
Compton Elementary and McEachern High Schools
11/89--7/90: Learner Support Strategist, Mt. Bethel Elementary
8/90--7/91: Assistant Administrator, Fair Oaks Elementary
8/91--7/93: Assistant Administrator, Mt. Bethel Elementary
8/93-- 6/94: Assistant Administrator, Campbell High School
January 1984-October 1986: The Atlanta Braves Baseball Team
Coordinator of Special Events and Promotions, Broadcast
Operations Coordinator, and Assistant to the Director of Stadium
Operations.