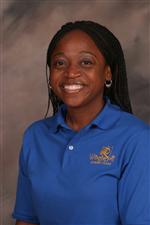 Hello,
I am Mrs. Endia Andrews and I am delighted to be the Instructional Coach at Scott Elementary School. I am an Atlanta native and a proud graduate of the Atlanta Public Schools system. I completed undergraduate and graduate studies at the University of West Georgia in Carrollton, GA. My favorite quote is "It is not what you keep, but what you give that makes you happy. We make our living by what we get. We make our life by what we give. Whatever you do,strive to do it so well that no man living and no man dead, and no man yet to be born can do it any better."
-Dr. Benjamin E. Mays
I am very passionate about teaching and learning and even more excited about supporting Scott's teachers and students this year.
As the Instructional Coach, I consistently receive extensive training in scientifically research- based instructional methods and techniques. My goal is to continuously provide leadership and expertise at the local school level to support improvement in teacher instruction. My duties also include working collaboratively with the principal, leadership team, and other stakeholders to ensure a positive learning environment and to increase instudent achievement.
I am truly excited about this year!
Sincerely,
Mrs. E. Andrews
Instructional Coach