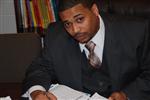 Greetings,
I am excited to bring my experience in education to work at West Manor Elementary School during this time of transition. I have worked with Atlanta Public Schools since 1999 in several capacities and most recently as the Academy Leader for Engineering and Technology at Frederick Douglass High School. I have obtained a Doctorate of Educational Leadership from Georgia Southern University with Educational Specialist and Master of the Arts degrees with a concentration of Curriculum and Instruction from Central Michigan University in preparation for the task at hand.
Under my leadership the faculty and staff will utilize combined talents and abilities with research based best practices from district sources and stakeholders to provide an effective, safe, and supportive learning organization. We will use reflective practices for the purposes of professional growth and the enhancement of instruction. Our purpose is to prepare our scholars to be successful in their future educational endeavors.
West Manor has been and will continue to be a consistent top performing institution committed to academic excellence through adherence to the following virtues: identification of behavioral and instructional needs of students, employment of a continuous improvement model, providing resources for learning that are both rigorous and relevant that reach beyond the classroom, communicating with and soliciting support from parents and business partners. I look forward to working with you in efforts to serve the children of West Manor Elementary.
Sincerely,
Reginald Lawrence Ed.D