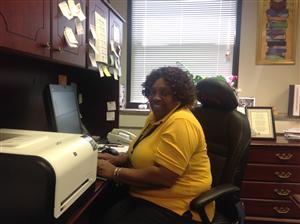 Dear Parents and Students,
WELCOME BACK to Thomas Heathe Slater Elementary School. The faculty, staff and I look forward to working with you to achieve our shared goal of helping your child achieve his/her highest potential. Our theme for this year is "Because of Slater, We Can". In an effort to continue to ensure a quality-learning environment and safety for ALL students, please be advised of and adhere to the following for the 2016-2017 school year:
School Hours
Breakfast is served from 7:20 am – 7:50 am in the cafeteria. Students SHOULD NOT be dropped off before 7:20 am. Students are LATE at 8:00 am. Students are dismissed at 2:30 pm. There will be no Early Dismissals after 2:00 pm.
School Uniforms
Uniforms are to be worn Monday through Friday. Parents will receive advance notice about spirit wear and dress down days. Uniforms for students are as follows:
SHIRTS FOR ALL STUDENTS: Gold, Orange, or Navy Blue. Polo style.
SHORTS FOR ALL STUDENTS: Khaki or Navy Blue. At or below the knee and secured with a belt.
PANTS FOR ALL STUDENTS: Khaki or Navy Blue. Must be secured with a belt.
BOTTOMS FOR GIRLS: Khaki or Navy Blue. Skorts, Skirts, Jumpers. At or below the knee.
SHOES FOR ALL STUDENTS: Closed toe only. No sandals or flip flops.
OUTERWEAR FOR ALL STUDENTS: Gold, Orange, or Navy Blue.
We are asking ALL parents to join the PTA at Slater. Dues are only $5.00. After school starts, you will receive a parent/student handbook with more information about the district and school's rules and expectations, curriculum, discipline, student services as well as health and safety guidelines.
Consistent communication between the home and school is essential to promote the best interest of your child and all children attending Slater Elementary School. I encourage you to become involved and to contact your child's teacher or the office if you have any questions, concerns or comments throughout the school year. Our Parent Center is available daily from 8:00 am – 3:00 pm and is located across from the main office in Room 128.