Return to Headlines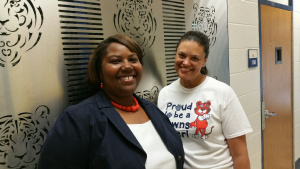 I love my shirt, principal Simon!
I've been impressed by the leadership of Dione Simon since meeting her when she was principal of C. S. King Middle School, so I knew she would have creative ideas for Towns Elementary. She really loves this school.
She and her leadership team spent a great deal of time this summer re-branding the school as "Tiger Town" and embedding activities within the name that uplifts students and allows their voices to be heard. Every child was wearing a name tag today that encouraged others to have a conversation with them.