Blalock Elementary fifth-graders awed by 'Brainetics' and its creator
ATLANTA - Blalock Elementary School's 44 fifth-graders sat at rapt attention Wednesday, as "Brainetics" creator Mike Byster awed them with his almost-mystical mathematical mind games.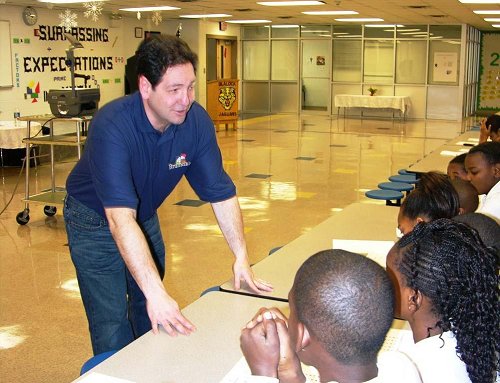 'Brainetics' creator Mike Byster tests Blalock Elementary fifth-graders' ability to stump him with mathematical problems.
Byster, a former trader on the Chicago Mercantile Exchange and creator of the mind-and-memory program known as "Brainetics," showed the students new ways to memorize number sequences, shortcuts to solve math problems and logically think their way to solutions.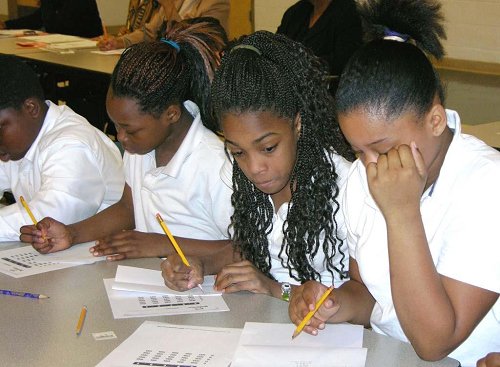 Dominique Rosser (center) and Tyerisha Williams collaborate to solve a mental problem posed by 'Brainetics' creator Mike Byster.
"The stuff you learn today will not be taught at any grade level in school," he told them, "but it's very important information for you to improve your learning of all subjects."
Some of the math tricks he showed them included short cuts to multiplication,

number sequencing and tricks to memorizing several things, such as supermarket shopping lists.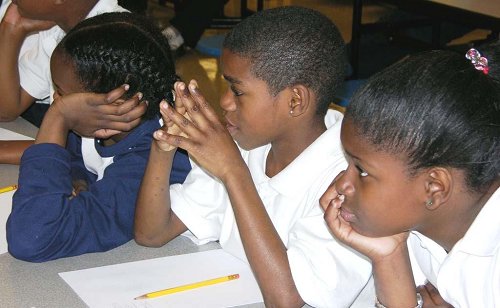 Keyasia Upton (left), Gabriel Barnett (center) and Katherine McElroy listen in awe as 'Brainetics' creator Mike Byster explains some of his 'tricks' to solving complex math problems.
Byster says his shortcuts "are really just an alternative way to approach a problem…(that) do not bypass reason and problem-solving skills, but actually help kids identify problems."
He told the students that "today, your teachers are 1,000 times as cool as mine were," because his teachers would accept only one way of arriving at answers to math problems – the one in the text book. Byster commended teachers at Blalock and other schools today for allowing their students to arrive at answers using a variety of methods.
Brainetics, "is an entertaining learning program targeted toward children fourth grade and above, with the goal of getting kids excited about math and learning. Brainetics does more than teach children how to multiply large numbers in their heads without paper, pencils or calculators, or how to map a random date to the actual day of the week without hesitation. It gives students the tools to master complicated mental problem-solving."
Byster, who has made more than 5,000 volunteer presentations in schools across the country and the world during the past decade, was in Atlanta to present his method and his program to students at several schools throughout the metro area. Blalock was the only Atlanta Public School at which he appeared during his visit.