Atlanta Public Schools, Nanjing University, Emory University, and Chinese government open Confucius Institute in Georgia
"It is better to light one small candle than to curse the darkness" - Confucius
ATLANTA – Atlanta Public Schools, Emory University, Nanjing University and the Chinese government lit one small candle Wednesday, opening the first Confucius Institute in the southeastern United States at Sammye E. Coan Middle School.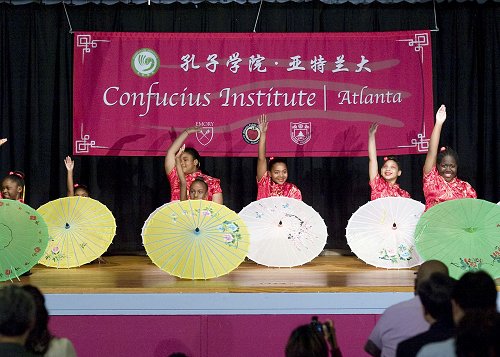 Toomer Elementary students perform umbrella dance at Confucius Institute Opening Ceremony. (Photo by Scott King)
The Confucius Institute in Atlanta is part of a fast-growing international network of cultural centers supported through grants from the government of the People's Republic of China to promote understanding of Chinese language and culture.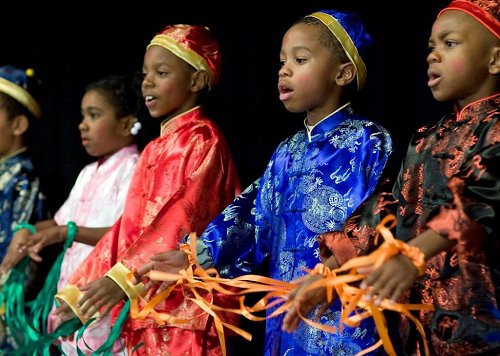 Toomer Elementary kindergartners wow Confucius Institute Opening Ceremony guests with Chinese version of the children's song, 'If You're Happy and You Know It.' (Photo by Scott King)
It is not only the first Confucius Institute in the state of Georgia and the southeastern United States, it is also the first and only one in the U.S. to be jointly administered by a private American university and a public school system.
Three Atlanta Public Schools currently teach Chinese language – Toomer Elementary, Coan Middle and North Atlanta High - and APS expects to extend those courses to at least two more schools within the next two years.
"In today's environment, where intellectual capital can be video-conferenced, emailed, faxed or flown in, the school district's charge is to produce scholarly citizens of the world," says Atlanta Public Schools superintendent Beverly Hall. "The Atlanta Confucius Institute places us in a solid position to do so. The institute is a one-of-thekind international project in the Southeast that will serve as a model for K-12 students, both within and outside Atlanta."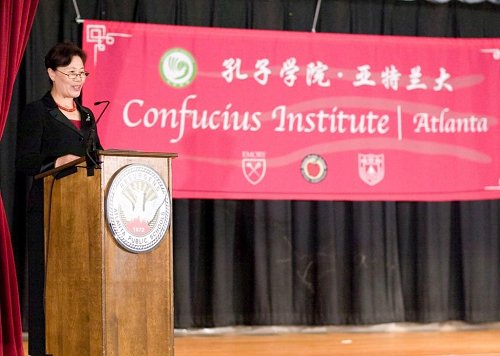 The Honorable Madam Qiao Hong, Consul General of China at the Consulate in Houston, officially inaugurates the Confucius Institute in Atlanta on behalf of her government. (Photo by Scott King)
Emory President James Wagner said the opening of the Institute "is a special occasion for all of us who are committed to international education. Ultimately our aim is to enhance the understanding between the peoples of our different nations and cultures—truly an exalted and noble goal."
Housed in Coan Middle School near the Emory campus, the Confucius Institute in Atlanta is "designed to be a gateway to Chinese language and culture for individuals, families, communities and schools in metro Atlanta and the surrounding area," says Cai Rong, associate professor of Chinese studies and the inaugural director of the Institute.
The Confucius Institute in Atlanta will help introduce K-12 instruction in Modern Standard Chinese throughout the state of Georgia and foster knowledge of Chinese language and culture in the greater metropolitan Atlanta area.
· serve as a regional resource center for teacher-training and curriculum design;
· host a wide range of cultural and educational events open to the community;
· assist APS in developing Foreign Language Model Sites for K-12 Chinese instruction that can be replicated by schools statewide;
· offer classes in Chinese language and culture geared toward Atlanta's business community, teachers, parents and the public; and
· facilitate academic exchanges at all levels and in all disciplines between Emory and Nanjing University.
"Thanks to its special design, the Confucius Institute in Atlanta is poised to be a model not only for an unusual public-private partnership in education, but also for a new type of Confucius Institute that can be emulated by other schools," says Cai.
VIPS unveil Confucius Institute plaque: From left:, Elizabeth Webb, director of the Georgia Department of Education's Innovative Academic Programs Division; Dr. Cai Rong, Emory University associate professor of Chinese Studies and inaugural director of the Confucius Institute in Atlanta; Dr. Gloria Patterson, executive director of APS School Reform Team 3; Dr. Xian Zhou, associate vice president of Nanjing University; Atlanta Public Schools Superintendent Dr. Beverly L. Hall; Coan Middle School Principal Dr. Andre Williams; Doug Wood, a private trade consultant with Market Access International Inc.; Toomer Elementary School Principal Tonya Saunders; Emory University President Dr. James W. Wagner; Cecily Harsch-Kinnane, vice-chair of the Atlanta Board of Education; and Wang (March) Yi-Peng, Chinese language teacher at Coan Middle School and co-director of Confucius Institute in Atlanta. (Photo by Scott King)
The Confucius Institute in Atlanta is funded with a renewable, three-year grant from the Chinese Language Council International (Hanban), which is affiliated with the Ministry of Education of China. It is the 41st such institute in the United States
Emory's relationship with China dates to the 1850s. Students from China were among Emory's first international students, and Young John Allen, a member of the class of 1858, became one of the founders of modern Chinese journalism in Shanghai. Today Emory has a growing interdisciplinary program in Chinese studies, faculty who are engaged in numerous research initiatives, visiting faculty from China, and students ho travel extensively throughout East Asia. President Wagner visited China in 2007 to launch a new joint project in medicine in Beijing and meet with Emory alumni there.