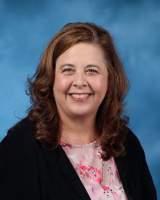 Phone: 404-802-8950
Email:
Degrees and Certifications:
Elementary Education - Indiana University  Master's in Leadership - Butler University
Audrey Sofianos: Principal


Ms. Sofianos loves being the principal of Morningside Elementary School. It's the best job she's ever had, especially greeting students each morning as they arrive to school.

Ms. Sofianos grew up in Indiana and was a classroom teacher and principal there. She's was the principal of Sutton Middle School in North Atlanta, while they planned and executed their reconfiguration and move to a new building. Ms. Sofianos loves to learn and works every day to ensure all students have the chance to go to college or other special school, after high school. She became a principal because she loves kids, and truly enjoys spending time with them. Kids always make her smile! Ms. Sofianos enjoys attending school events such as Braves Night, Halloween Carnival, Family Science Night, Book Fair, Variety show, and special classroom activities.

Ms. Sofianos enjoys hanging out with her family and friends, and likes to read, travel, and watch movies, especially Star Wars.
From the Principal's Desk
April 2, 2020

Posted by

Audrey Sofianos

on

4/2/2020 3:45:00 PM

Virtual Principal's Coffee Talk: Friday, April 3

Please join Principal Sofianos and the entire administrative team tomorrow at 8:00 am for our first virtual coffee talk! Bring your own coffee, find a comfortable seat in your home and join us! We hope that technology is on our side; we will be using Google Meet. If you are using a computer, the link should work seamlessly. If you are using a phone or tablet, you will need to download the Google Meet app, as well as sign in with a Google Gmail account. To join the video meeting, click this link: MES Principal Coffee

Otherwise, to join by phone, dial +1 929-299-3766 and enter this PIN: 384 523 106#. See you then!

March 27, 2020

Posted by

Audrey Sofianos

on

3/27/2020 3:25:00 PM

Phase 2 & Beyond Begins for MES Students, Staff & Families

What an amazing & busy two weeks of MES student learning virtually and at home! All of us were thrust quickly into this new world - where we all made adjustments to family life, school life, work life, and social life all at once. I know there have been challenges, but I could not be prouder of the work of our students, teachers, and families these past two weeks. I have received multiple videos, pictures, and emails of students in action - and have also participated in several Google Meets and Zoom classroom sessions. We also had a team behind the scenes who contacted every single one of our MES families to ensure our children have the technology needed to participate in school, deploying APS chromebooks as needed over this past week. We also thank our "Food Insecurity" team who continue to support those needs for our children. We are ready for Phase 2!

Phase 2 shifts us more into our routines, participation, and some graded work. For this fourth quarter of school, teachers will be giving a minimum of five grades per subject, with our special areas giving 4 - 5 grades for Art, PE, and Music. We have support teachers & paras who are working with both teachers and students, giving assistance through our Special Education, Intervention, and English as a Second Language teams. Students receive a final grade on their report card for the entire year's worth of work. Three of our four grading terms were together "live" at Morningside, and we do not anticipate a major negative change in a child's grade at this time. In addition, our special area teachers are working hard to restructure their classrooms to make it easier for students and families - with these changes rolling out next week. Our teachers and administrators will be supporting students and monitoring grades and participation, helping in any way we can.

We know that Phase 2 will continue at least through April 24th. Spring Break will take place April 6th - April 10th as scheduled. Any MES or APS events or meetings scheduled during the weeks of March 30th, April 13th and April 20th have been cancelled. However, teachers and staff are continuing to have parent meetings, SST/504, or IEP meetings virtually if needed. If we do return to school, we will not have any statewide testing, such as GMAS for our 3rd, 4th, and 5th grade students. We also would really love your input, to help us in improving our virtual teaching and learning experience. We are all "virtual pioneers" together, so please share your thoughts MES Virtual Learning Parent Survey. Lastly, you are welcome to join me at a Zoom Virtual Principal Coffee Talk on Friday, April 3rd at 8am. The link will be posted closer to this event!

March 16, 2020

Posted by

Audrey Sofianos

on

3/16/2020 5:50:00 PM

On Monday, March 16th our teachers and staff met together virtually from our homes so that we are ready for our new learning experiences with your children. I want to assure that we are very child focused in all of our efforts and I am extremely proud of the work of our staff these past few weeks in preparation. The MES team and community have really come together in this nation-wide time of crisis, even if we are doing it from our homes and using our "social distancing"!

Google Classrooms are ready and all MES teachers have created plans and activities for learning to continue, plus ways to connect virtually. I am excited for what is planned for our students! However, this is the first time for all of us - for you as parents at home with your children, for teachers remotely, and for kids who will not be at our school with their classmates. Many of our parents and teachers are juggling the roles of parent, worker, teacher, caregiver, volunteer, with all of us from babies to MES kids to teenagers to adults at home. I want to acknowledge that we are in this together, we will keep children at the center of all decisions, and we will get better each day in support of our kids, school and community. Please be patient - with yourselves as parents in new roles as well as with our staff as we are learning and finding tools to best assist our students.

We are calling the first two weeks "Phase 1" of our MES virtual learning program. As our superintendent has shared, our school is cancelled for 2 weeks, but it could more. In the two week phase, we are focusing on connection - ensuring that all of our students can participate in our learning experiences and that we find ways to connect with students and each other as a community. If you have a device and internet at home, please begin to interact with your teachers through the use of your child's Google Classrooms. All homerooms plus PE, Art, Music, GATE, ESL, Special Education, Technology, Intervention and Spanish have Google Classrooms. We also have many other online resources through our school library and a revamped website to help you, plus I am sure more to come!

Start by joining in and communicating with your teacher if you have any challenges. We have plans to provide devices to those who need them with the support of APS. Please reach out to your teacher if you do not have a device or have internet challenges. We will verify with every MES child in some way this week to ensure the ability to connect to our virtual learning. APS has rallied many organizations to help and companies are stepping up to help our kids in this time of national need. Teachers will also give guidance on screen time, academic time, reading time and routines, and our school will share information every few days. I also enourage you to find ways for your child to connect remotely with classmates and friends.

Most importantly, stay healthy and safe during this COVID-19 pandemic. I know this is a time of uncertainty and constant change. Please listen and implement the guidance of the medical professionals, task forces, and agencies who are taking the lead to help our city, state and country. Here are some excerpts from "Social Distancing: This is Not a Snow Day" that I found particularly helpful Full Text Here

Exercise, take walks/runs outside, and stay connected through phone, video, and other social media. But when you go outside, do your best to maintain at least six feet between you and non-family members. No kid playdates, parties, sleepovers, or families/friends visiting each other's houses and apartments. This sounds extreme because it is. We are trying to create distance between family units and between individuals. It may be particularly uncomfortable for families with small children, kids with differential abilities or challenges, and for kids who simply love to play with their friends.

Please contact me at anytime, I will be working from home on behalf of the children of MES each day! Principal Sofianos

Staff Member Meeting from Home 3/16/2020

March 12, 2020

Posted by

Audrey Sofianos

on

3/12/2020 4:05:00 PM

Though we have no known cases of COVID-19 at MES or in APS, we know these are unprecedented and uncertain times. I want to assure you we continue to keep our normal routines and focus on our students, yet have made preparations for the future. Our virtual learning is ready if necessary. We are evaluating all events beyond a normal school day, which may impact field trips and other activities. At this time, the Band and Drum team concert on 3/31/20 along with Chorus and Orchestra Concert 4/2/20 are both cancelled, with the teachers working to find other options to showcase their students' progress. Please note that other events may be cancelled and will be assessed on a case-by-case basis. Our entire administrative team is here to support our MES kids and families, along with the Grady Cluster principals on behalf of our cluster community. Thank you and please contact me with any questions or concerns.

March 2, 2020

Posted by

Audrey Sofianos

on

3/2/2020 11:45:00 AM

MES Preparedness Specific to COVID-19

As the information continues to evolve regarding Covid-19, "Coronavirus Disease", MES is following all guidance from local and federal officials, as well as the Georgia Department of Health and the Centers for Disease Control. I want to assure you that we are being as prepared and preventative as possible. What does this all mean for you as families and for our students and staff?

MES Staff Preparations at Both Main Campus & Kindergarten Center:

We have been reviewing with students an age-appropriate summary of staying healthy – washing hands 20 seconds, not touching eyes, ears, and mouth, as well as how to safely cough and sneeze.
Teachers are ensuring there is adequate hand-washing time built in throughout the day. (Hand-sanitizer is a back-up as well if needed)
Our Business Manager has met with APS facilities to be sure that we stock up on paper towels and soap, as well as increase our restroom monitoring during the day.
We are all cleaning and disinfecting surfaces more frequently, across both school sites.
Our purchasing team has ordered additional classroom level cleaning supplies/hand sanitizer and will quickly secure additional supplies for teachers as needed.
Our teachers are preparing their "Google Classrooms" in the event that schools in Georgia are temporarily dismissed per local/federal officials. We are preparing for the possibility that students and/or staff work from home, following a "telework" model.
Nurse Petty at Main and Nurse V at Kindergarten have procedures to ensure students and staff who become sick at school or arrive at school sick are sent home as soon as possible.
Our administrative team is reviewing and updating our emergency operations plans as needed, as we learn new information.

Please visit our APS Student Health Alerts Page, which will always have the latest health information provided by APS. In addition, here is the Link to Supt. Carstarphen's Blog on Coronavirus. We also have an "Important News" section at the bottom of our MES Website, where we will post any letters or information received.

Parent/Guardian/Family Preparations:

Nothing is more important than the safety and well-being of our students, staff and families! I will continue to closely monitor all developments related to Coronavirus Disease and provide you with as timely information as possible.

November 12, 2019

Posted by

Audrey Sofianos

on

11/12/2019 3:45:00 PM

Morningside Reunites Both Campuses for MES@Inman 2020-21 & 2021-22

It is official! Morningside Elementary will bring all grades together for MES@Inman K - 5 during our renovation these next two school years 2020-21 and 2021-22. All students will attend school at our temporary property, the current Inman Middle School, while our building receives a $17 million dollar renovation. We are naming the next two school years MES@Inman!

While the Kindergarten Center has been a HUGE success these past two years, the Inman property gives us the amazing opportunity to come together again as a one campus family. All students will benefit from increased space at a new and exciting place with a larger gym, cafeteria, media center, enclosed courtyard, large field spaces, a seated auditorium, as well as a new playground! Siblings and families will enjoy this two year experience together in the historic Virginia Highlands Neighborhood. As much as I love our kindergarten center, I miss seeing our littlest learners each day.

During this decision process, our APS team has studied and weighed all options, looking at everything from transportation to nutrition to security and to various grade level/classroom configuration plans. We will use some of the portables currently at the Inman property, while APS will remove the necessary portables to create a play space/playground for our children.

Dr. Holly Brookins is an absolute champion in the lead role of K Center Program Administrator. Our entire kindergarten staff has exceeded our expectations in creating incredible learning spaces, out of empty rooms. Metro City Cathedral Church and staff have become famliy to us; their partnership is invaluable. I cannot express my gratitude enough to Dr. Brookins and team for all they do at the K Center for our students. Our strong kindergarten program will continue at 999 Briarcliff the remainder of this school year.

Similar to when families move to a new home, there is a level of sadness as you leave one place to go to another. Be assured, we are taking the heart of Morningside with us - the students, the families and the staff - to create new memories together MES@Inman.

October 31, 2019

Posted by

Audrey Sofianos

on

10/31/2019 11:00:00 AM

The GA Dept. of Education released the official College and Career Ready Performance Index (CCRPI) rate for the state and every public school, including Morningside. With a 96.7, we are thrilled to retain our #1 designation in APS, and now share that with our sister school, Springdale Park (SPARK) Elementary! GO Grady Cluster! These are the four components the state uses in CCRPI:

Content Mastery – Measures achievement of students in English language arts (ELA), math, science and social studies.

Progress – A measure of growth in ELA and math that students have made relative to academically-similar students across Georgia, and measure of progress English learners are making towards proficiency in the English language.

Closing Gaps – Measures the extent to which all students and all student subgroups are meeting annual achievement improvement targets (based on Georgia Milestones).

Readiness – A measure of literacy, student attendance, and enrichment beyond core academic subjects.

While there is no single benchmark measurement of our progress each year, CCRPI is something we analyze at the school and GO Team levels. We use it to make decisions to benefit all of our children and create a plan of action so more students achieve at higher levels.

Parents, I cannot thank you enough for making attendance a priority for your family! Your commitment to education paves the way for our teacher experts to do their work each day - and attendance does make a difference in our Morningside CCRPI score. If you want more detailed information, here is a link to Morningside and every school in our state 2019 CCRPI Public Reports. Congratulations students, teachers, and families and let's continue working together to ensure that all of our students succeed on the path to college and career!

October 8, 2019

Posted by

Audrey Sofianos

on

10/8/2019 10:55:00 AM

Renovation of Morningside Property

Did you know that Morningside Elementary School is on schedule for a significant renovation starting next school year? During the 2020-21 and 2021-22 school years, our students, teachers, our books and supplies, and most of our furniture will be moved to the current Inman Middle School property. A little known fact is that prior to 1979, the Inman property was an elementary school, so for our renovation it will be like going back in time to the days when the halls and classrooms were full of young learners! MES@Inman will be for two full school years, as this multi-million dollar renovation is completed.

MES@Inman 2020–2021 & 2021-2022
Currently, a team is working out all logistics regarding the move next year. The team represents our school, transportation and several departments within facilities, along with our Associate Superintendent Yolonda Brown. We are looking at possibilities for playground location, placement of grades within the building, the status and future of the portables, as well as even running transportation tests. Our wonderful KG Center was originally scheduled to be a two year location, however we are looking at what is best for our students with all the information we have at this time. We meet again in 2 1/2 weeks as we work towards a recommendation as soon as possible regarding the next two years of MES@Inman.

MES Renovation
This is scheduled to be a $17 million renovation to our school! Brian Baron, School Business Manager, and I recently attended architect presentations from the six finalists for our project. WOW – it was amazing to meet these top-notch firms, look at their previous projects from the U.S., some even international, as well as their creative concepts for our building. Each member of the review team completed a rubric, rating these finalists. I am so excited for our school community and the possibilities for our future children through the renovated space, scheduled to re-open to students the start of the 2022-2023 school year.

There is a timeline for our renovation project, and you can find more information HERE. The architect handles all planning, gathering community input, revisions, more community input, and all permitting. That appears to be a several month long process, up to a year. The target to break ground is February 2021, with completion by the start of the school year 2022-2023 school year.

September 23, 2019

Posted by

Audrey Sofianos

on

9/23/2019 6:00:00 AM

Exciting Times at Morningside!

This is an amazing time to be a student at Morningside! We are the foundation of the K – 12 journey towards college and career. We are focused and dedicated to each student achieving to his or her highest level while having a well-rounded and joyful student experience at our school. Our motto is "Growing the future one child at a time" and we strive to live this every day.

As a College and Career Signature Program, we provide rigorous instruction as well as lots of exposure to enrichment and experiences. We have a garden teacher now for K – 2 and have expanded Spanish to include 3rd, plus 4th and 5th grade. Through centers and activities, our teachers are infusing more science, technology, engineering and math – what we call STEM in the education world. We have chickens in the garden, computers in the classroom, WDAN studio, and an expanding robotics program. Our foundation is a strong literacy program led by highly trained teachers and we work together to continuously improve, striving to provide a first class education for every child.

Our Media Center is the hub of our school – it is busy starting at 7:30am each day! If you have not visited lately, it is a must on your list this year. It has been fully transformed into an exciting place with LOTS OF NEW BOOKS, activities, and even self-checkout for students!

Our Kindergarten Center, affectionately called the "K Center", is in its second year and is such a special place for our youngest learners. We have added kindergarten only Special Area teachers of Art, Music and PE this year, plus new paraprofessionals to assist students and teachers. Morningside as a "One Family, Two Campus" system is working well for our students and school community.

The 19-20 school year marks our 90th year at the E. Rock Springs Campus! It is also the last year that we will be at E. Rock Springs prior to a major renovation. All of our teachers, books, materials, supplies and furniture will be moving to Morningside@Inman for the 2020-21 and 2021-2022 school years. Soon after October 7th, we will communicate more regarding the move to Morningside@Inman, including plans for our Kindergarten 2020-21 and 2021-22, as well as up to the minute details regarding our time on this temporary property for all of our students!