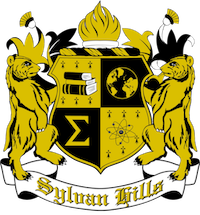 Sylvan Hills Middle School ~ 6th Grade
Welcome to 6th grade at Sylvan Hills Middle School

Greetings parents please sign up for a time slot to drop off your students devices, pick up any awards, and pick up a snack pack for your child.

If your child is planning on attending the Summer Recovery Program they do not need to return their devices at this time, however still complete the sign up so we may get an accurate account for lunch.

Should you have any questions please give me a call at 470-265-5521.

Thank you in advance, Dr. Smith-Worthy

SIGN INTO YOUR HOMEROOM ZOOM USING MYBACKPACK

6th Grade Administrator

Ms. Mahoganey Jackson

Grade Level Teachers

Content

Team A

Team B

English/Language Arts

Ms. Hansberry

Ms. Miller

Mathematics

Ms. Polite

Ms. Bailey

Science

Dr. Smith-Worthy

Dr. Smith-Worthy

Social Studies

Ms. Robinson

Ms. Robinson

Intervention

Ms. Trawick

Math

Ms. Franklin

Reading

Co-Teachers

Ms. Smith ELA

Ms. Rhooms Math

Ms. Leben Science/SS

Ms. Smith ELA

Ms. Rhooms Math

Ms. Leben Science/SS

Sylvan Ready

Respectful

Punctual and Prepared

Presentable

Engaged

The following systems are in place to foster success for all 6th grade students:

School Uniforms All 6th graders are required to wear a

YELLOW

polo shirt with khaki, black or navy blue pants Monday through Friday. When permitted, dress down days will be communicated in advance.

Agenda Books/Homework Folders All 6th grade students will receive and agenda book and homework folder to record and organize homework. Please check agendas and homework folders nightly to help your student stay on track.

25 Book Campaign & Weekly Reading Logs (Reading and Writing Initiative) In support of developing stronger readers and writers, 6th graders will participate in a 25 Book Campaign that includes reading at least 25 books during the school year and submitting weekly reading/writing logs.