Voluntary Transfer Process: Frequently Asked Questions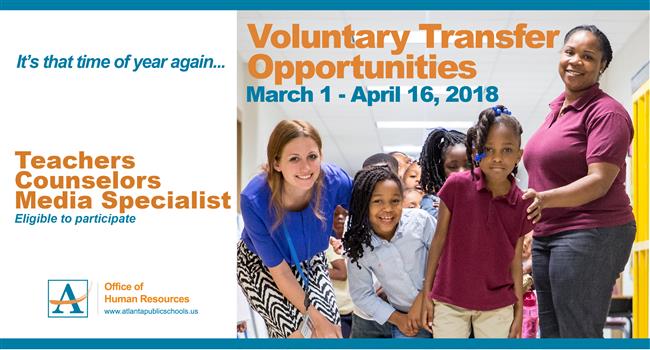 What is a "voluntary transfer"?

In accordance with Board policy GARE, Employee Assignment, eligible certified personnel may request consideration for reassignment or transfer once a year during the voluntary transfer period. Each school year, the Atlanta Public Schools (APS) leadership team evaluates the feasibility of offering certified staff (i.e. Teachers, Media Specialists, and Counselors), the opportunity to submit a request for voluntary transfer consideration to another school location within Atlanta Public Schools. In addition, if the APS leadership elects to offer an opportunity to be considered for a voluntary transfer, the process and timeline is developed and communicated to APS staff by the Human Resources division each school year.

What are the eligibility requirements?

Must hold a current teacher, media specialist, or counselor position (unless approved by HR).
Must not have received a contractual difficulty letter.
Must not have been placed on a professional development plan during the 2018-19 school year.
Eligible staff must hold a certificate in available content areas.

Are classified positions (i.e., paraprofessional, school clerk, school secretary) eligible to participate in the voluntary transfer process?

No. At this time, classified positions do not participate in the voluntary transfer process in SharePoint. Human Resources will continue to review our processes to assess how we can involve more employee groups, including classified staff. Classified employees may apply for positions on the careers page at www.apsrecruits.us.

If I am not offered a contract for school year 2018-19, may I participate in the voluntary transfer process?

Yes. However, if you have been issued a contractual difficulty letter or currently on a professional development plan, you are not eligible to participate in the Voluntary Transfer Process.

How do I find out which schools are participating in the voluntary transfer process?

A listing of the schools with available positions is posted on voluntary transfer webpage. This year, we will be accepting applications via SharePoint. To access SharePoint you will need to have access to the APS network.

What must I do to be considered for a voluntary transfer?

All interested staff must apply online to one or more schools in order to be considered. We strongly encourage staff to apply as soon as positions are posted on March 1, 2018, as there will be no exceptions after the transfer period closes on April 16, 2018. Submitting a resume with your application is required.

When will voluntary transfer positions be posted on the APS HR webpage?

Positions will be posted on March 1, 2018 and will be updated until April 16th.

What is the difference between a lateral transfer and a promotional transfer?

A lateral transfer is move movement from one position to another within the same job class. For instance, transferring from a teacher position at West Manor Elementary to a teacher position at Morningside Elementary is considered lateral. A promotional transfer is a transfer to a higher level position. For instance, a transfer from a teacher position to an instructional coach position. Note, an application and selection process is required for both, unless the transfer is an administrative placement.

How do I apply for a promotion?

If you are you interested in a promotional position, such as Assistant Principal, Instructional Coach or Principal, you may finding the listing of opportunities and apply via www.apsrecruits.us.

If I apply for a voluntary transfer, am I guaranteed an interview?

Unfortunately, given the ratio of interested staff to principals, we cannot guarantee an interview for all that apply to positions. We encourage you to upload a detailed resume that will be useful to principals as they screen for interview selection.

If I am granted an interview, what should I bring with me?

If selected for an interview, it is best practice to bring evidence to support verbal statements. Suggested items, include but are not limited to, current resume, cover letter, personal statement, teacher portfolio, evidence to support student growth, previous performance evaluations, a smile, and a positive attitude.

Where will interviews be held?

Principals will schedule interviews at their schools between March 1, 2018 and April 16, 2018.

What if I am selected for two or more schools?

If a staff member is selected for two or more schools, the staff member will make the final decision as to which school he/she will be transferred. Human Resources will notify all principals of the candidate's choice.

How will I know if I am selected?

Staff selected for transfer will receive a phone call followed by a confirmation email from Human Resources. Employees not selected for transfer will receive an automatic email informing them once the voluntary transfer process has concluded.

Are there any restrictions in the number of positions I may apply to for consideration?

No. There is no limit restriction as it relates to the number of positions staff members apply to for transfer consideration.

If I am certified in multiple areas, may I apply for positions outside of my current teacher assignment?

Yes. Staff members are able to apply for positions that are commensurate with their certification, even if their current assignment is in a different subject area from the position he/she is seeking.

What if I no longer want to transfer after accepting a position?

After being selected, the HR team will reach to the staff member an offer the new assignment. If the new assignment is accepted, the staff member will be required to honor the transfer request. However, the Superintendent or designee reserves the right to administratively transfer any employee based on the needs of the school district.