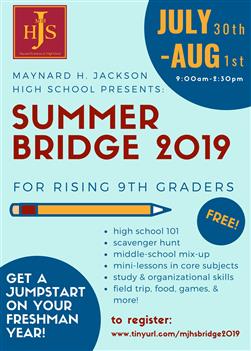 Summer Bridge for Rising 9th Graders
Maynard Jackson High School's 2019 Summer Bridge program is a three-day program designed to help rising 9th graders prepare for a successful first year of high school. Students will participate in fun and engaging workshop sessions with the goal of fostering a smooth transition to 9th grade. Over the course of the three days, students will: have the chance to get to know students from other feeder middle schools, meet teachers, become familiar with the building, participate in mini-workshops on organizational and study skills, get an introduction to the core subjects, learn about the expectations of high school, and much more.

Summer Bridge will take place at Maynard Jackson High School on Tuesday, July 30 - Thursday, August 1, 2019 from 9:00-2:30. The program is completely free, but students MUST register in order to participate. The deadline for registration is Friday, July 19th. CLICK HERE to register for the program.

Questions? Please contact Ms. Harris, 9th Grade Counselor, at keely.harris@atlanta.k12.ga.us, or Dr. Deas, Instructional Coach, at andrea.deas@atlanta.k12.ga.us.