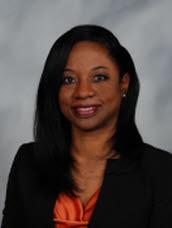 Phone: 404-802-8500
Email:
Degrees and Certifications:
Dr.

Constance Winds

Dr. Constance Winds is delighted to be at Harper Archer Elementary as the Assistant Principal. Her goal is to show servant leadership, promote positive interactions and increase teacher and student capacity through her service. Dr. Winds is dedicated to the community and seeing that all students succeed. She believes that through empowerment and commitment, we all can have a positive impact on the outcome of student achievement.

Dr. Winds is starting her 23rd year in education with a Doctorate degree in Organizational Leadership. She attended Florida Memorial University, where she completed her undergraduate degree in Elementary Education. She transitioned to Montessori Education, where she taught children ages 6 – 9. Understanding the importance of continued education, Dr. Winds pursued advanced degrees. She attended Barry University, earning a Master of Science degree in Elementary and Montessori Education. Soon after, she attended Florida State University, earning a Specialist degree in Science Education. Dr. Winds attended Grand Canyon University, earning a Doctorate degree in Organizational Leadership with an emphasis on curriculum and instruction. She is certified to teach Elementary Education, Middle School Language Arts, Middle Science, Middle School Social Science and ESOL. In addition, she earned the prestigious National Board Certification.

After moving to Georgia in 2007, she has served Jones County and Bibb County Schools in various capacities. She served as an Academic Coach, Instructional Coach Specialist, Assistant Principal and Principal. She knows that teaching is the ultimate calling for a person, and because of this, leaders have a responsibility to be prepared to support staff to meet the needs of every student. Her goal is to help students and families build a solid foundation to have successful school years. She lives by a quote by Maya Angelou, "To make a difference is not a matter of accident, a matter of casual occurrence of the tides. People choose to make a difference."

Dr. Winds is excited about the opportunity of being the assistant principal at Harper Archer Elementary School, while supporting the students, faculty, and community. Dr. Winds believes that all children have the right to reach their potential! She credits her inspiration from her principal, colleagues, and family who desire to be part of positive social change.