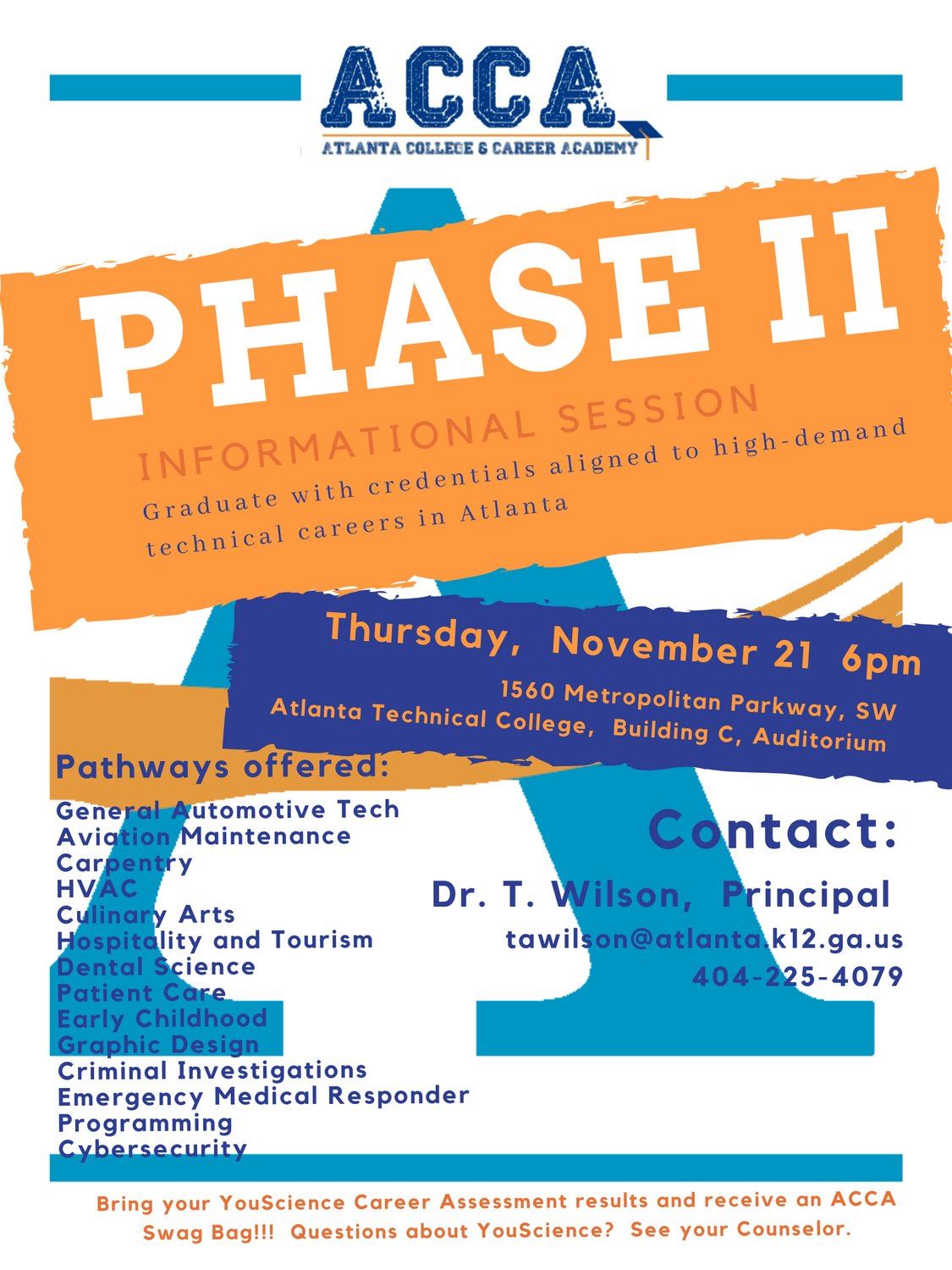 Atlanta College

and

Career

Academy

(ACCA)

The mission of the Atlanta College and Career Academy (ACCA) is to ensure each student graduates high school with the knowledge, skills, and attributes necessary for college and career success. ACCA aims to benefit students, employers, and the community-at-large by increasing high school graduation and college enrollment rates, providing higher levels of academic attainment, and strongly preparing students for high-skill, high-wage, and high-demand careers that will lead to greater potential for local economic development.

Current Dual Enrollment program/pathway listings can be found at:

www.atlantatech.edu/academics/programs

/

APS ACCA Staff Contact Information

Administrative Office:

1560 Metropolitan Parkway, SW, Bldg. B, B165, Atlanta, GA 30310

Office Phone:

(404) 225-4079

Phone:

Email:

Principal/CEO

(404) 225-4079


Program Administrator

Counselor

Administrative Assistant

(404) 225-4079


APS Nondiscrimination Policy

The Atlanta Public School System does not discriminate on the basis of race, color, religion, sex, citizenship, ethnic or national origin, age, disability, medical status, military status, veteran status, marital status, sexual orientation, gender identity or expression, genetic information, ancestry, or any legally protected status in any of its employment practices, educational programs, services or activities. For additional information about nondiscrimination provisions, please contact the Office of Internal Resolution: 130 Trinity Avenue, S.W., Atlanta, Georgia 30303.
The Atlanta College and Career Academy hosted a strategic planning session with industry professionals September 12, 2019. Participants completed various tasks designed to provide input in the development of ACCA. Please click the link below for additional details.