Kappa Alpha Psi Scholarship Winners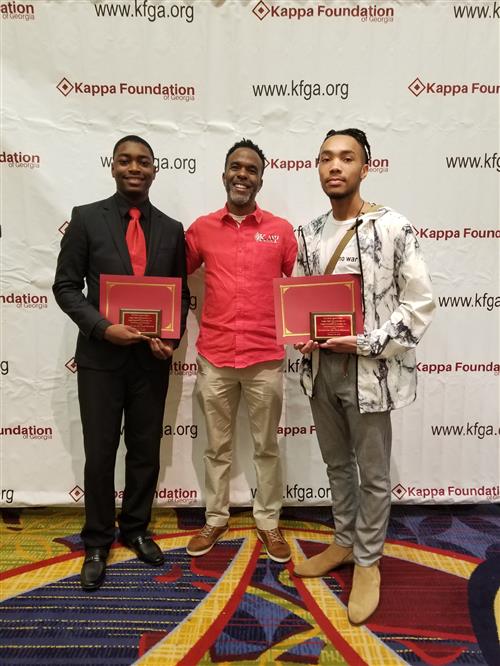 Congrats to seniors Aaron Burras and Joshua Bailey who participated in the very competitive Kappa Alpha Psi Fraternity Student of The Year Scholarship program! Both were recognized for their high academic achievement and artistic talents.
"Understanding Your Child's Transcript" Parent Meeting: Thursday, March 1st @ 9am in the CCC
---
ASVAB Administration: Thursday, March 15th @ 8:15am in the JROTC Building
The ASVAB (Armed Services Vocational Aptitude Battery) will be administered Thursday, March 15, 2018 @ 8:15 a.m. in the JROTC Classroom Building. This Career Exploration Program helps students make realistic and satisfying educational and career choices.
Sign-up with your Counselor today.
---
Department of Special Education Parent Expo Thursday 3/8/18, 5pm @ Maynard Jackson
---
Grief & Loss Group
Group Counseling Permission Slip
Grief & Loss Group Counseling will be available for students beginning February 7-March 29. Please see attached Parent Permission Form. If you would like for your child to participate please sign and return the permission form to Dr. Blankenship, Counselor.
Please contact Dr. Blankenship if you have questions or would like more information.
---
Atlanta Habitat/Let's Plan Your Build: Grady Build 2/24/18!
VOLUNTEER REGISTRATION LINK:
www.grady.atlantahabitat.volunteerhub.com
Grady students, parents, teachers, and community members are invited to contribute a day of COMMUNITY SERVICE to a family in need. Forty volunteers, age 16+, are needed on Saturday, February 24th, to work on Habitat for Humanity build to benefit a deserving Atlanta family. Follow the link below to sign up today. Volunteer registration will close on Friday, Februrary 17th.
VOLUNTEER REGISTRATION DETAILS:
-All volunteers are required to register online individually. Each volunteer will complete our Release and Waiver form during the registration process.
-Registered volunteers will receive automated confirmation and reminder emails with a link to our Volunteer Information Packet (view/download here).
-The minimum age required to volunteer is 16 years old. Volunteers ages 16 and 17 must print their Release and Waiver form and bring it to the build site with a parent or guardian signature
-Please make sure your volunteers register online at least one week prior to your build day. If you do not think your group will be able to fill all your volunteer slots, please notify me as soon as possible so that additional volunteer support can be enlisted.
---
Community Coffees with Leslie Grant
---
11th Graders and the SAT
Khan Academy/College Board Account Creation Instructions
On March 7, Grady will be offering the SAT to all 11th graders. In order for you to be prepared for the exam and assist in the registration process, you'll need a College Board and Khan Academy account. Once the account is established, students must log on and commit to at least 20 hours of practice prior to the SAT exam. If you have any questions, please contact the counselors. Please see attachment for instructions on creating your College Board and Khan Academy accounts.