Return to Headlines
Via 11 Alive : http://www.11alive.com/news/new-reading-approach-is-a-game-changer-for-atlanta-school/315469746
New reading approach is a game changer for Atlanta school
ATLANTA - Teachers at
Burgess-Peterson Academy
in Atlanta are going back to the classroom to learn a different approach to reading.
Principal David White calls the move a game changer.
"I didn't learn as a teacher how to teach children specific phonics skills, how to decode words and make sense of letters and sounds," White told 11Alive's Jennifer Leslie. "And I'm not alone in that."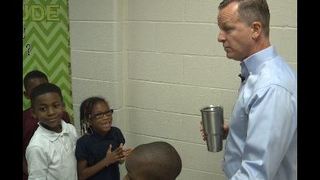 When White became principal of Burgess-Peterson Academy last year, he quickly realized his students were falling behind in reading.
"They're good sight readers early on in kindergarten and first grade," he explained. "But by the end of second grade, third grade, they start hitting a wall because there's a cap to the amount of sight words they can hold in their working memory."
White's solution is the Orton-Gillingham approach.
Instructors with the Atlanta nonprofit Reading Is Essential for All People (REAP) are teaching every homeroom and special education teacher at Burgess-Peterson Academy how to use it.
"The brilliance of the approach is that it's not a curriculum. It's knowledge. The teachers hold that knowledge and use it," said REAP founder Jen Rhett. "It makes all readers stronger, not just those who are struggling."
REAP used donations to help pay for part of the training.
The school raised the rest using tax dollars, PTO funds and coke machine money.
The school-wide, two-year training will cost about $50,000.
"The entire student population will move forward with this knowledge and this foundation," Rhett added. "By making sure they have this foundational skill, their opportunities are limitless."
(© 2016 WXIA)