Return to Headlines
CANCELLED - Grady Soccer Community & Senior Night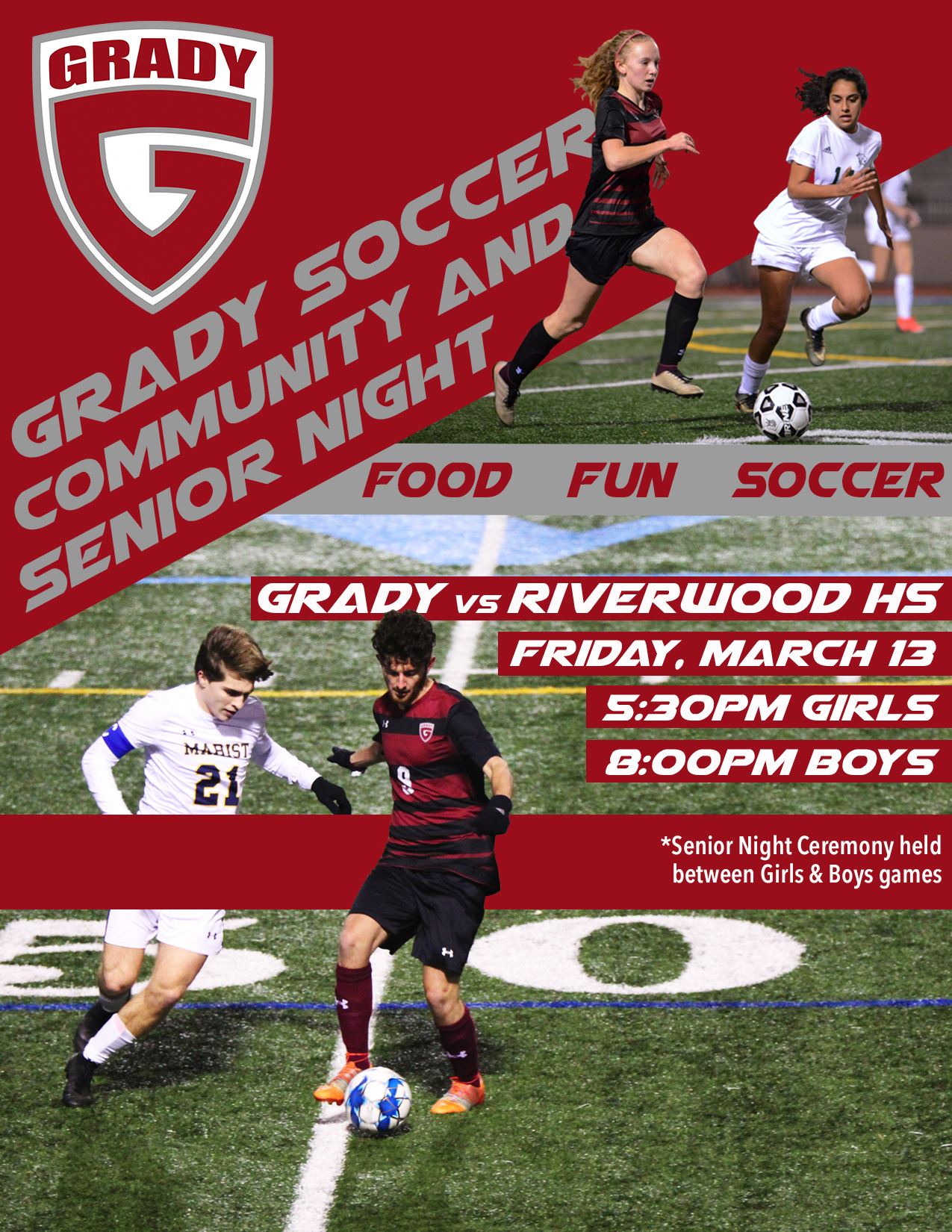 APS has suspended all athletics and extracurricular activities until further notice. We hope to reschedule but do not have any further information at this time.
----------------
We are excited to host our annual Grady Soccer Community and Senior Night on Friday March 13th. The Varsity Girls kick off at 5:30 pm while the Varsity Boys kick off at 8:00 pm. We have a special recognition event planned for our seniors between the boys and girls games. Be sure to bring your appetite as we will be selling Food, Drinks and Snacks!
Attire: Inter Atlanta Players should wear their IAFC jerseys!
Arrival Time:
Girls game starts at 5:30 Arrival time is by 5:15 for the Girls Varsity Game
Boys game at 8:00 pm. Arrival time is by 7:45 pm for the Boys Varsity Game
Check In: We'll have a table near the stadium entrance. Kids should come to the table to check in
Player Escort Instructions:
Gather near table at the entrance (We will have a sign out) 15 minutes before the game starts for instructions
Escorts will be walked to the other side of the field prior to the start of the game and lined up with the players. They will walk to the middle of the field with the player and remain until the National Anthem is over. At that point, they can rejoin family and friends in the stands
Ball Girl / Ball Boy Instructions:
Gather near table at the entrance (We will have a sign out) 15 minutes before the game starts for instructions
3 ball boy/girl placed on each side of field and behind goal; they can rotate at half time
When ball goes out, quickly get ball and return to player
Pay attention! Keep eyes on ball and don't turn back to game!
No cell phones or other distractions allowed during game