Return to Headlines
SPARK Afterschool Day Care Program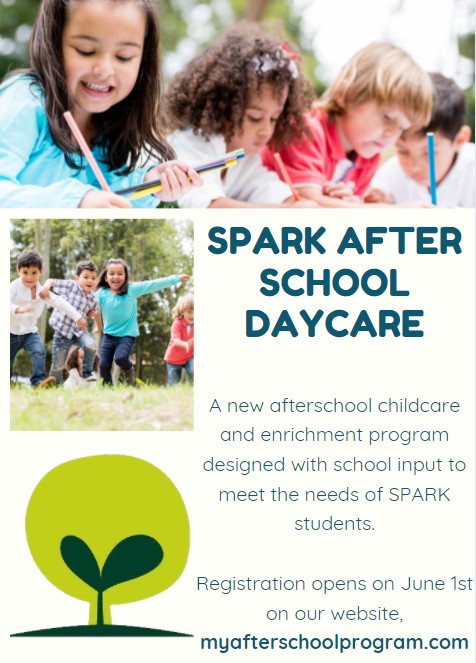 Springdale Park After School
An afterschool childcare and enrichment program designed with school input
To meet the needs of SPARK students.
As a classroom teacher, I have always seen the value in the afterschool hours. There was so much time, so much that could be done, but so little structure. When I left the classroom to start my family 18 years ago, I was asked to run the school-based afterschool program at the school where I was teaching. I jumped at the opportunity and over the past 18 years, I have focused on creating a safe and meaningful program where there is structure, academic support, family support, and FUN! We currently have programs at Morningside (MAS), Sarah Smith (SAS), and W.T. Jackson (JAS). I am honored to begin a new partnership with the students, families, and school community at Springdale Park!
My name is Kim Bishop and I am a farmer's daughter from Upstate NY, where it snowed excessively, so I headed to Georgia after college! I graduated with a Bachelor of Science in Elementary Education and Spanish from the State University of New York, College at Fredonia. My Master's degree is from Walden University in Teacher Leadership. I have been married for 22 years. My husband, Hank, and I have four children, Kaitlyn 18, Aiden 16, Ethan 12 and Logan 12. Being a parent is the hardest job I have ever had and because of this, it is CRITICAL to me that the families who use our programs know that, together, we are creating a partnership where we support each other, for the good of the child. Nobody can do it alone and I have seen the difference that good communication and support makes, not just for the child, but for the family unit. We are excited to meet the SPARK families and are thankful for the opportunity.
Thank you for welcoming Springdale Park After School, SPAS! It is our honor and privilege to be a part of your community!
ALL ABOUT SPAS
Our program focus is on student development through a variety of activities in a safe, structured, supportive, and fun program.
SPAS Hours:
Dismissal-6:00PM, Monday- Friday, following the APS calendar.
SPAS Fees:
Registration fee: $100 per family per school year.

Full time tuition $385.00 per month. (multiple children from the same family discount)

Drop-in fee $30 per day. This is best for the child who needs care up to 3 days/week, or as needed.
SPAS Teachers:
Caring, qualified, and creative teachers will work with students in a small 1:12-1:18 ratio.

All teachers are CPR/First Aid certified, educated, experienced, and trained.

We will work with classroom teachers to ensure that each student receives the academic and social support needed to be successful!
SPAS Program Guidance:
Our programs use the policies and guidance set forth by the Counsel of Accreditation, Bright from the Start, Quality Rated, and Atlanta Public Schools.

We work closely with the school personnel and parents to ensure the needs of the children in our program are being met.

Students are grouped by grade to aid with academic focus and relationship development.
SPAS Program Structure:
Our program day is broken into 4 blocks to ensure a balance in the afternoon for the children.
Snack and Social Block:

We provide healthy snacks for the students and are a nut-free program.
Students have "down time" to socialize while having snack. (30 minutes)
Academic Block:

Students will have the same teacher daily and are grouped by grade. Students will complete homework and/or work on academic centers or games that support relevant topics being taught during the school day. (40-75 minutes)

Outdoor Play Block:

Students will have a daily opportunity to play outside (weather permitting). (30-45 min)

Enrichment Activity Block:

Teachers plan 6-8 various activities weekly that students have an opportunity to choose from. During this block age groups do sometimes mix.

We encourage the students to give input as to what type of activities they would like to have planned and later in the school year our older students plan and lead activities for the younger students.

Examples of activities: STEAM activities, cooking, art projects, community outreach, games, music, dance to name a few.
SPAS Extracurricular Programs
In addition to our childcare program, we have a variety of classes that are offered by vendors which are overseen by SPAS. These classes are available to all students enrolled at SPARK and meet once each week.

We have a variety of programs that will be offered including: some potential classes include robotics, martial arts, chess, soccer, golf, tennis, lacrosse, acting, arts, theater, music, building programs and foreign Language. Fees are set by the vendors. SPAS manages all registration, arrival, attendance, dismissal, and provides support to the instructor if needed. Extracurricular class schedule will be available on our website in July.
Registration opens June 1st on our website, myafterschoolprogram.com