Return to Headlines
Updates for the 21.22 School Year!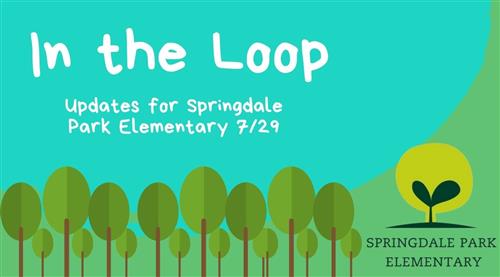 Hello SPARK Families! The moment that we have all been waiting for has arrived…..let's make this the best year yet! Please take a moment to review the following document. It contains updates that you will need to be aware of for the 2021.22 school year at SPARK!
SPARK Town Halls
We will be holding two Town Halls next week to inform parents of our new procedures/protocols for the 2021.22 school year. Mr. Harness will share information regarding SPARK COVID19 mitigation strategies to help ensure the safety and health of our students and teachers. We hope that you will be able to join us on Monday, August 2nd at 6pm or on Tuesday, August 3rd at 6pm. For more information on how to join our Zoom Town Halls, please click here. SPARK TOWN HALLS
Health Check App – New for 2021.22!
Atlanta Public Schools has partnered with HealthCheck to aid our district in the task of collecting daily health screenings for students. HealthCheck is a health screening tool available as a mobile app and website that will be used as our primary daily student health screening tool. SPARK is asking that all parents/guardians support us by downloading this APP and screening your children daily for Covid19 symptoms. For more information on how to install the HealthCheck APP for your child, please click here. SPARK Health Check
In addition to student screenings via HealthCheck, SPARK will continue with daily temperature screenings of all students in all grade levels prior to entering the building for the 2021.22 school year.
SPARK Surveillance Testing for COVID19
SPARK will continue to offer Covid19 Surveillance testing for the 2021.22 school year. We highly encourage all families to allow students to be tested weekly for Covid19. Please consider giving your consent so we can test your child every Friday at SPARK. If you provided consent in the 2020.21 school year, you will need to do so again for the 2021.22 school year. You can complete the Online Consent Form or you can complete the paper consent form at Sneak Peek. To learn more about surveillance testing please click here - Surveillance Testing @SPARK
Mask & Social Distancing Updates @ SPARK
For the 2021.22 school year, SPARK will comply with the guidance provided the district and the CDC regarding masks and social distancing in schools.
Students, staff and visitors will wear a mask while inside the building. While masked indoors students & staff will practice 3ft of physical distancing. When eating lunch inside the building, 6ft of physical distancing is required. Classes will be assigned to outdoor areas for lunch, weather permitting.
Visitors/Volunteers are allowed in the building during the 2021.22 school year. Visits must be pre-arranged with teachers. Spontaneous visits from parents/guardians will not be allowed. All visitors must wear a mask and comply with our daily health check screenings. Visitors are not allowed to eat lunch with children so we can ensure proper physical distancing of all students in all spaces on campus.
Parent/Teacher conferences will not be conducted face to face. We will continue to meet with parents virtually via Zoom for conferences.
Additional Updates – New for 2021.22!
Transitioning to Classrooms
All grade levels will have a grade level specific entrance. Please review the following information on student Arrival & Dismissal Expectations. SPARK has created videos that show students which entrances are assigned to their grade level. Arrival & Dismissal Expectations

All students will transition to Specials classes for face-to-face instruction. Homeroom classes will move from their classroom to their specials teachers (Art, Music, PE, Media Center) classrooms this year.

Students will assist teachers in wiping down their area/desks/seats prior to leaving the classroom.

3rd, 4th & 5th Grade students will transition to their team teacher's homeroom this year.

Students will assist teachers in wiping down their area/desks/ seats prior to leaving the classroom.

Students will transition to GATE, ESOL, EIP or SPED classrooms as needed.
Inside the Homerooms
Homerooms will remain in their "bubble", to the greatest extent possible, throughout the day. This means that homerooms will not socialize with other homerooms as we do our best to reduce potential exposure from on class to another.

Masks are required in all homerooms.

Student desk shields will not be used in the classroom this year.

Frequent handwashing throughout the day will be the norm and hand-sanitizing stations are located in all classrooms.

Students will maintain 3ft of social distancing inside classrooms.

Students will not be able to share personal items.

Students may leave books and other materials and supplies at school this year.

Water fountains will remain turned off throughout the year but we ask that parents send students with water bottles that can be filled in our bottle filling stations.
Outside at Recess
Homerooms will be assigned recess zones while outside. These zones will change daily so students will have access to different areas of the campus on different days. Masks are optional while outside at recess.
SPARK PTO
Springdale Park asks that all parents donate $200 per child to the Springdale Park PTO. Money donated to the PTO will go directly to support our school, our teachers and our students.

Money donated to the PTO has supported SPARK in the following ways:

All teachers receive $250 for start-up funds to assist in purchasing needed supplies, resources, books, etc. in their classrooms.

PTO supports all academic programs that SPARK uses to differentiate & personalize learning for all students.

Over $30K provided to add to our Media Center book collection

Over $40K provided to add to the SPARK leveled library for instructional purposes and homeroom classroom libraries

All hallways at SPARK have bottle filling stations for students use.

Shade structures and umbrellas for tables were provided to promote sun safety.

Picnic tables provided for outdoor instruction and lunch areas

SPARK Sports Court (Basketball Court)

Please donate to and join PTO today by visiting bespark.org.

Sign up for SPARK-e which is our weekly school newsletter at by clicking on this link. SPARK Electronic Newsletter