Return to Headlines
Quaran-Teaching @SPARK - Quarantine for Exposures, Positive Cases & Travel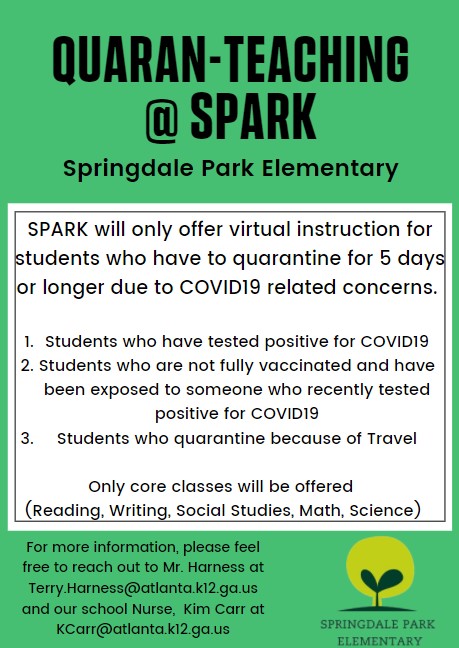 Exposures & Positive Cases
Students who are absent for reasons other than the three listed above, will not be able to participate in Live Zoom Instruction. These students will have access to their Homeroom teacher's google classroom to complete and turn in any assignments missed. SPARK will continue to encourage parents to keep sick children home. We understand that it may be hard to tell the difference between COVID-19 symptoms and other common illnesses, seasonal allergies, or some chronic illnesses but if your child has any of the symptoms listed below, we ask that you keep them home and continue to monitor their symptoms.
Fever (≥100.4 oF) or chills (Under no circumstances should a child be given fever reducing medication and sent to school)

New cough

Shortness of breath or difficulty breathing

New loss of taste or smell

Sore throat

Nausea

Vomiting

Diarrhea

Muscle or body aches

Fatigue

New severe/very bad headache

New nasal congestion/stuffy or runny nose
Please remember that SPARK doesn't write the guidance on quarantining/isolating students but we will do everything we can to adhere to it.
We want our kids in school. Our kids need to be in school. How can you help us make sure this happens?
Monitoring your children daily and supporting us as we continue to navigate through difficult times.

Continue to be supportive of our teachers and understand that simultaneous teaching is not easy.

Understand that we have to put some guard rails in place that are supportive of teachers who have kids physically in their room and kids who may be in their virtual room so they can plan accordingly.

By remembering that in the 2020.21 school year, we offered virtual teaching for families who did not feel comfortable with their kids coming back to school for F2F instruction, but in the 2021.22 school year we are only offering "Quaran-Teaching" which is virtual instruction for students who have to quarantine for 5 days or longer due to Covid related reasons.
Travel Guidance
Students who have recently travelled to a location and stayed the night in that location may need to be quarantined.
Per the CDC, it is recommended that for any student/s who have travelled should quarantine for a minimum of 5 days. Again, this is a recommendation but not a requirement.
We trust our SPARK parents. If your family has followed CDC guidance while travelling and continued to wear masks while maintaining social distancing you are welcome to send your child to school. We do ask that if your child is exhibiting symptoms or has a fever that you please keep your child home for the full quarantine period.