Return to Headlines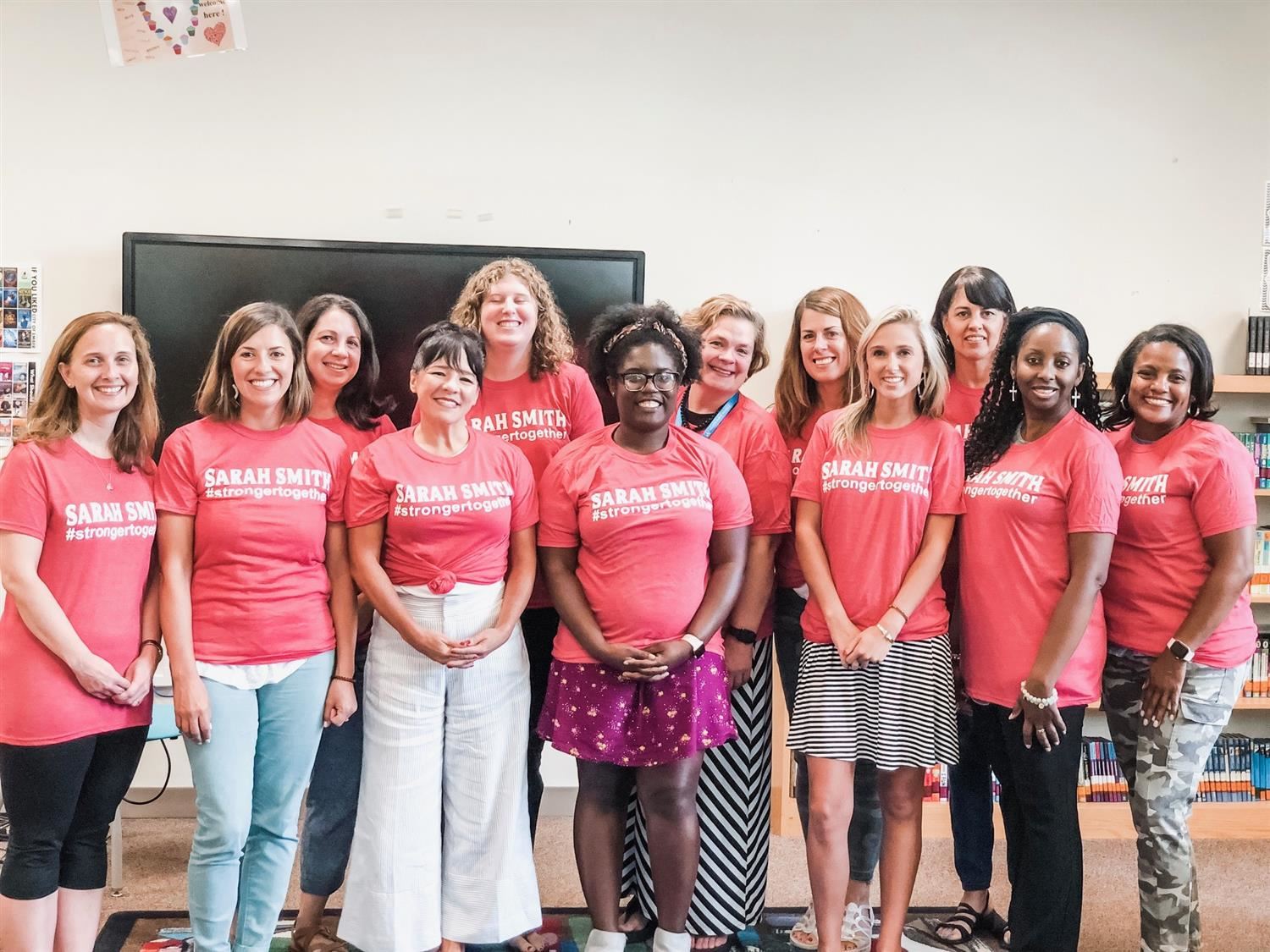 ---
Neely Quigly – 3rd Grade
Hi 👋🏼 My name is Neely Quigley, and I'm teaching 3rd grade this year. For those that do not know me, I am a returning SRS teacher (taught 3rd for 5 years before leaving). While away, I worked part-time in Pre-K at The Preschool at PRUMC. I was a "career-changer" with my first degree in Marketing/HR Management from the University of South Carolina, and later earned my M.A.T. In Early Childhood at Oglethorpe University.
I have three kids: Kate (rising Kindergartener), Annie (2.5y), and Benjamin (8 months). My husband, Ben, and I just celebrated our 10th wedding anniversary! I also have two dogs: Bailey (Maltipoo) and Otis (terrier mix). When I'm not teaching, or wrangling my three kids 😉, I enjoy traveling to my home state, (especially to Charleston, SC) and making jewelry.
I am excited to be back!
---
Rachel Jones – 5th Grade
Hi, everyone my name is Rachel Jones! I have been in the Atlanta area my whole life, except for my college years at GCSU in Milledgeville, where I graduated with a degree in business! After working in sales for over a year, I decided to follow my true passion and obtain my Master's degree in education. It has been one of the best decisions I have made! While I have been working within the APS system for almost a year, this is my first official year as a teacher and I am thrilled to be working at Sarah Smith with this amazing faculty. I will be on the 5th grade hall teaching math and science, I am so excited for this year!
---
Claudia Rocabado – 3rd Grade DLI
Hello, I am Claudia Rocabado If you really knew me, you would know that I grew up in the second highest capital of the world, La Paz.
I am married to an amazing scot named Scott. We have three children; one in college, one in middle and one in 5th grade at SS. I was born in Bolivia and feel privileged because my parents went through many hardships to provide for a solid education for me and my sisters. This foundation allowed me to be here now using the languages I learned as a child. I continued my education to earn a BA with a minor in Accounting from the University of St. Thomas in Houston, Tx. However, this degree did not prepare me too well to be a stay home mom for a few years and travel with my family. After volunteering many years, I decided to get a teaching certification in bilingual education with an ESOL endorsement.
I am a world traveler. Our family lived in Malaysia for several years. There I wondered how very small children would switch back and forth at play between three languages at times. I love ethnic foods, they say so much about our cultures. Which I hope to explore even more this year as in 3rd grade DLI with my "media naranja" or better half Ms. Yarbrough who has been fantastic support and best welcome to Sarah Smith. I look forward to a great year of friendships and learning.
---
Letricia (La-Trish-a) Henson -Music Teacher
Letricia Henson is a native of Atlanta, Georgia. She is a Singer, Music Educator, Stage Director and Actress. Ms. Henson is a graduate of the Dekalb School of the Arts, Spelman College, Clayton State University and Piedmont College. Letricia was a member of Atlanta Opera's international touring company that performed in Paris, Luxembourg and Granada, Spain of the opera, Porgy and Bess. She was a featured soloist at the 90th Morehouse/Spelman Christmas Carol Concert and the Democratic 2017 Convention held in Atlanta. She was Teacher of the Year for the 2015-2016 school year for Atlanta Public Schools' Adamsville Primary School. Ms. Henson has provided leadership to the following roles Elementary General Music Lead Teacher (APS), Assistant Business Manager of the Atlanta Public Schools' Honor Chorus, Spivey Hall's Education Advisory Board, APS Superintendent's Teacher Advisory Council and Arts Leaders of Atlanta.
Letricia is entering her twelfth year as an Elementary General Music Teacher in the Atlanta Public Schools System. Ms. Henson was a guest clinician and conductor for the Atlanta Public Schools' 2019 Elementary Honors Music Festival. Letricia is excited to join the Sarah Smith Elementary School. Ms. Henson looks forward to sharing her musical gifts with all of Smith's students. My goal is to prepare students for the 21st century by infusing essential skills critical thinking, communication, creativity and collaboration in arts integration through music.
---
Donna Fialkowski
I went to Loyola College in Baltimore and graduated with a degree in elementary education. I then completed my Masters degree in education with a specialty in reading at Johns Hopkins University in Baltimore and my Special Education Certification requirements at Loyola College in Baltimore. When I graduated from college, I taught second and fifth grade, and after six years as a classroom teacher, I became a reading specialist for ten years in Maryland. My family then moved to Atlanta, GA in 2003, and I was a full-time mom for three years. Before I started working for Dekalb County, I worked in the two-year old program at my son's preschool for one year. Starting in 2008, I enjoyed working as a pre-k and Kindergarten special education teacher in Dekalb County. In my free time, I love to run with friends and walk my dogs.

I have worked as a special education teacher for the past nine years. I have had the opportunity to work with students with disabilities, including autism, learning disabilities, and intellectual disabilities. I have been supporting classroom teachers and students by providing strategies such as Handwriting without Tears, Orton-Gillingham and other VAKT reading techniques, Teachtown social skills program and a variety of technology apps and computer programs. My students make progress on their IEP goals with the use of specialized instruction and classroom accommodations.

I have been married to Paul Fialkowski for 26 years and we are proud parents of three children and two dogs. My oldest daughter, Allison (24), is finishing her first year at Harvard Medical School. My middle daughter, Helen (22), graduated from North Atlanta (2015) and GA Tech (2019) and she will complete her graduate studies in architecture at Princeton University. My son, Tommy (18), is a senior at North Atlanta. He is scholarship athlete and a commit for D1 lacrosse at Bellarmine University.
I am so excited to be part of the Sarah Smith community!