Return to Headlines
Say "Hello" to the New Field Day!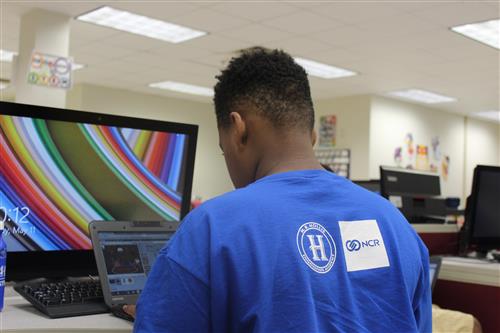 Hollis Innovation Academy recently hosted its 2nd annual STEM Field Day, with tremendous support from their partners at NCR Corporation and Georgia Tech - Center for Education Integrating Science, Mathematics & Computing (CEISMC).
Along with the usual fun field day activities that children have come to know and love (Balloon Pop Relay, Water Relay, and Tug of War), students enjoyed engaging STEM challenges and activities like a Cat Scratch Exercise, which allows users to write code to program their own interactive stories, games, and animations. Students also used software on iPads to guide Sphero® robots through mazes they built using LEGO® blocks. Older students (3rd through 6th grade) were given a unique opportunity to experience a new retail payment technology by NCR called "Just Walk Out" by playing a game using several objects with capture technology to accumulate points.
The idea to incorporate science, technology, engineering, and math into Field Day directly coincides with the school's innovative brand as an EL Education Expeditionary STEM School, and its partners are just as committed to this endeavor.
NCR, a global technology company, recently pledged $1 million toward funding STEM education initiatives at Hollis. "NCR is honored to partner with Georgia Tech's Center for Integrating Science, Mathematics, and Computing (CEISMC), to build student interest and achievement in STEM topics at Hollis Innovation Academy through a $1M investment over five years to the Westside Future Fund," said Yvonne Whitaker, NCR Foundation Lead. "STEM Education is an important focus area for NCR Foundation, our intent is to promote diversity and wider access to STEM education through this investment."
"We need more innovators. We need more people to push the edge of what technology is about, and you guys have the ability to do it at such a young age," said retired Falcons quarterback D.J. Shockley to students during the closing ceremonies.
Other special guests who attended the event include Atlanta Public Schools Board of Education Chairman Jason Esteves, Atlanta City Councilmember Andre Dickens, Atlanta City Councilmember Matt Westmoreland, and Freddie Falcon among many others!