Return to Headlines
Important Information about Virtual School January 4-7, 2022
Dear North Atlanta Families and Stakeholders,
We are excited to welcome our staff and students back after this much needed holiday break. As we prepare to come back, we want to make sure everyone is safe in our learning environment. As you have likely seen in your community or heard in the media, our area is currently experiencing a spike in positive cases of COVID-19. Also, you likely read about some updates from APS Superintendent Dr. Lisa Herring. I'd like to reiterate a few of the points Dr. Herring shared in her memo:

Return to Classrooms and Offices
The district will reopen on Monday, January 3, 2022, with mandatory surveillance testing for all employees. This will be a professional learning day for teachers and employees.

Classes will resume for students on Tuesday, January 4, 2022 and will be virtual through Friday, January 7th.

Tuesday, January 4th will be an A-Day.

Please see the bell schedule at the bottom of this letter for the daily class schedule.

As of now, we expect all students to return to school in person on Monday, January 10th.
Accessing virtual learning
Before the break, all students who needed a computer and/or a hotspot were given the opportunity to get receive one. All students will need a computer in order to log in and complete their class work this week.

If there are issues with a student's computer, please email our Media Specialist, Lori McCall for assistance at lmccall@apsk12.org.

Teachers were directed to post a zoom link in their google classrooms so students can access synchronous instruction.

If your student has problems accessing the zoom class, it is important that they are logged in to their APS zoom account and not their personal zoom or personal google account.

Please ask your student to email their teacher directly for help, as needed.

Teachers that are sick and unable to work this week will post lessons in their Google Classroom. Students are expected to complete the work assigned to them in order to be marked present for the day in class.
Final Exam Make Ups
If your student missed final exams before the break, final exams will be made up the week of January 10th.

Please contact the teachers directly to schedule the make-up tests.
COVID-19 Surveillance Testing Strongly Encouraged for Students
In our continued effort to ensure the safety of our schools and the continued health and well-being of our students, we strongly encourage you to have your child/children tested – either before they return to school or as a participant in our surveillance-testing program offered on Wednesdays at school.

If you have not provided consent this school year, you will need to renew the expired consent or if would like your child/children to participate in surveillance testing, please find the link to our surveillance testing consent form here: http://tinyURL.com/HealthyAPS.
Aggressive Mitigation Strategies
We will continue with our strict COVID-19 mitigation protocols, which include mandatory testing twice a week for employees, voluntary testing for students, and mandatory masks for everyone inside an APS school or office building along with frequent handwashing and the use of hand sanitizer.
Additionally, here are more key health and safety reminders:
Stay Home When Sick
Maintaining public health measures such as staying home when you are sick, physical distancing, hand washing and mask wearing are very important to reduce the likelihood of both getting and transmitting COVID-19 in our schools. To ensure the continued safety of our students and staff, parents are reminded to complete the daily health screenings of their children each morning via HealthCheck before sending them to school each day and monitor for symptoms.
Students or staff who are ill or presenting with any symptom of COVID-19 should always remain home. Additionally, if a student tests positive with COVID-19 or is determined to be a close contact of someone who has tested positive, parents should continue to use our self-report formto properly notify school officials. Employees should report positive cases or close contacts using the staff self-report link as well.
Review CDC Travel Guidance
APS encourages all students, families and employees to continue to review and follow the most recent travel guidance issued by the Centers for Disease Control (Domestic Travel During COVID-19 | CDC). According to research conducted by the CDC, people who are not fully vaccinated are more likely to get COVID-19 and spread it to others (CDC, 2021). For this reason, the CDC recommends taking the following precautions after returning from travel.
ALL Travelers:
Self-monitor for COVID-19 symptoms; isolate and get testedif you develop symptoms.
Follow all state and localrecommendations or requirements after travel.
If you are NOT fully vaccinated:
Self-quarantine and get tested after travel
Get tested with a viral test3-5 days after returning from travel.
Stay home and self-quarantine for a full 7 daysafter travel, even if you test negative at 3-5
If you don't get tested, stay home and self-quarantine for 10 daysafter travel.
Upcoming Vaccination Event
APS will host COVID-19 vaccination events for eligible APS students who are ages 5 and older, APS families, and APS staff on Saturday, January 8 from 10 a.m. – 2 p.m.
Drive-up vaccine events will be held at the following locations:
Sutton 7/8 | 2875 Northside Dr. | Atlanta, GA 30305

Long Middle School | 3200 Latona Dr. SW. | Atlanta, GA 30354

Maynard Jackson High School | 801 Glenwood Avenue SE. | Atlanta, GA 30316

Mays High School | 3450 Benjamin E Mays Dr. SW Atlanta, GA 30331
They will be offering first shots, second shots, and boosters. All vaccine brands will be available. Register at http://tinyurl.com/apsvax
North Atlanta High School is committed to continuing to follow our established health and safety protocols. Thank you for your commitment to keeping our school safe and healthy. Please let us know if you have any questions or concerns.
Sincerely,
Curtis Douglass
Principal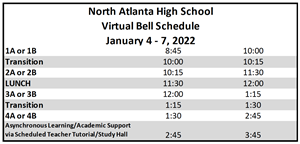 https://www.atlantapublicschools.us/cms/lib/GA01000924/Centricity/Domain/3377/NAHS%20Post%20Winter%20Break%20Letter.pdf