November 2017 News Releases
APS' investment in School Turnaround Strategy shows progress
FOR IMMEDIATE RELEASE November 3, 2017
APS' investment in School Turnaround Strategy shows progress
16 schools on Governor's Office of Student Achievement Turnaround Eligible Schools List
ATLANTA –Today, the district learned that 16 APS schools are on the Governor's Office of Student Achievement (GOSA) new Turnaround Eligible Schools list. The schools on this list have a three-year (2015, 2016, 2017) CCRPI average below 54.0, which is the bottom five percent for the state. Last year Georgia passed new legislation to create a focus on turnaround. This legislation included establishing the new role of a Chief Turnaround Officer as well as a new process for underperforming schools to receive state issued interventions.
Over the last three years, Atlanta Public Schools has taken several proactive measures to address underperforming schools within the district through the APS School Turnaround Strategy. All of the APS schools that are on the GOSA Turnaround Eligible list have already received additional individualized support and significant resources. As a result many of these schools have demonstrated promising academic growth and progress since these initiatives have been implemented. For example, 15 of the 16 schools that received the deepest level of targeted interventions through the Turnaround Strategy achieved gains across all subject areas on the 2017 GA Milestones assessment.
The APS Turnaround Strategy focuses on the district's lowest-performing schools and includes education partnerships, operating-model changes, high-impact tutoring, math and reading specialists to directly support students, recruitment of respected turnaround school leaders, targeted professional learning for teachers, and an accelerated roll-out of social emotional learning in schools. These investments provided individualized support for students, teachers, and leadership teams focused on school improvement. Attached is a detailed chart that shows which schools implemented which investments.
The district has seen a decrease in the number of schools identified for potential state intervention. Last January, 23 APS schools were placed on GOSA's Chronically Failing Schools List based on 3 consecutive years of CCRPI scores below 60. "We believe that we have demonstrated capacity and the will to improve many of our low performing schools by implementing bold approaches to increase student achievement," said Meria J. Carstarphen, Superintendent. "We just need more time to fully implement these successful strategies and initiatives."
"Since the beginning of this administration, we have been focused on improving instruction in our most challenged schools, making deep investments into the schools that need the most support, and extending more support to targeted schools so our students have a better chance to graduate from APS ready for college and careers. We have clearly demonstrated a willingness to take bold actions on behalf of our students, and given our progress to date, we remain confident that APS is strongly positioned to turn around our lowest performing schools."
Over the next few years, the district plans to continue the work focused on the APS Turnaround Strategy as a part of the Journey for Transformation. APS schools identified on the GOSA Turnaround Eligible Schools List will continue to receive intensive support from the district. More information is available atwww.atlantapublicschools.us/turnaround.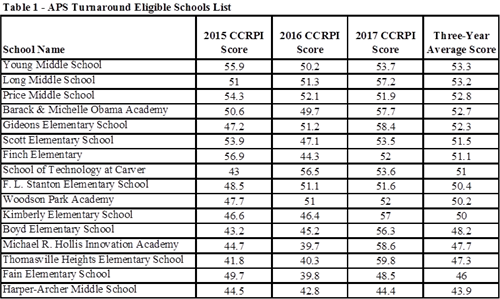 ###
About Atlanta Public Schools
Atlanta Public Schools is one of the largest school districts in the state of Georgia, serving approximately 52,000 students across 88 schools. The district is organized into nine K-12 clusters with 67 traditional schools, 17 charter schools, two citywide single-gender academies and two alternative programs. For more information, visit www.atlantapublicschools.us, follow us on Facebook at https://www.facebook.com/AtlantaPublicSchools/ and on Twitter @apsupdate.
Intervention & Support Strategy for APS Turnaround Eligible Schools
Over the last three years, Atlanta Public Schools has implemented several district-wide initiatives to support the turnaround efforts of individual schools. Those initiatives include: the development of a viable curriculum with units of study and consistent instructional practices; the implementation of a balanced assessment system; training and support for instructional leadership teams; integration of Social Emotional Learning; and launch of a family engagement strategy. The district's tiered approach to intervention is demonstrated below:
The following outlines the specific interventions that have been implemented for each of the identified schools:
Schools Undergoing Operating Model Changes

1

Gideons Elementary School

Operated by Kindezi effective 17-18

2

Harper-Archer Middle School

Phasing out one grade at a time effective 17-18; launching new middle school one grade at a time; additional investment to fund targeted professional development, additional counselor/social worker, & support with Harvard Data Wise

3

Hollis Innovation Academy

Closed Bethune ES in 16-17; reconstituted staff and relaunched as new K-8 STEM Academy with proven turnaround principal; additional investment to fund reading & math specialists, high-impact tutoring, targeted professional development, additional counselor/social worker, support from Communities In Schools, & support with Harvard Data Wise; partnership with Expeditionary Learning

4

Price Middle School

Operated by Purpose Built Schools effective 17-18

5

School of Technology at Carver

Merged with Carver Early College; reconstituted staff; phasing out one grade at a time - final year of operations is 17-18 school year

6

Thomasville Heights Elementary School

Operated by Purpose Built Schools effective 16-17

7

Woodson Park Academy

Operated by KIPP effective 19-20; additional investment to fund reading & math specialists, high-impact tutoring, targeted professional development, additional counselor/social worker, support from Communities In Schools, & support with Harvard Data Wise

Schools Receiving Targeted/Intensive Support

8

Boyd Elementary School

Additional investment to fund reading & math specialists, high-impact tutoring, targeted professional development, additional counselor/social worker, support from Communities In Schools, & support with Harvard Data Wise; new principal hired for 17-18 school year

9

D. H. Stanton Elementary School (Renamed Barack & Michelle Obama Academy)

Additional investment to fund reading & math specialists, high-impact tutoring, targeted professional development, additional counselor/social worker, support from Communities In Schools, & support with Harvard Data Wise; proven turnaround principal hired in 16-17; relaunched as Barack & Michelle Obama Academy

10

F. L. Stanton Elementary School

Additional investment to fund reading & math specialists, high-impact tutoring, targeted professional development, additional counselor/social worker, support from Communities In Schools, & support with Harvard Data Wise.

11

Fain Elementary School

Additional investment to fund reading & math specialists, high-impact tutoring, targeted professional development, additional counselor/social worker, support from Communities In Schools, & support with Harvard Data Wise; proven turnaround principal hired in 16-17; school scheduled to merge in 19-20

12

Finch Elementary School

Additional investment to fund reading & math specialists, high-impact tutoring, targeted professional development, additional counselor/social worker, support from Communities In Schools; intensive leadership support from The Rensselaerville Institute; new principal hired for 17-18 school year

13

Kimberly Elementary School

Additional investment to fund reading & math specialists, high-impact tutoring, targeted professional development, additional counselor/social worker, support from Communities In Schools, & support from Harvard Data Wise; intensive leadership support from The Rensselaerville Institute

14

Scott Elementary School

Additional investment to fund reading & math specialists, high-impact tutoring, targeted professional development, additional counselor/social worker, support from Communities In Schools, & support with Harvard Data Wise; new principal hired in 16-17 school year

15

Long Middle School

Additional investment to fund targeted professional development, additional counselor/social worker, intensive leadership support from Relay Graduate School of Education

16

Young Middle School

Additional investment to fund targeted professional development, additional counselor/social worker, intensive leadership support from The Rensselaerville Institute; proven turnaround principal hired in 16-17 school year