Posted by Audrey Sofianos on 5/16/2022
Did you know that every single student at MES is participating in a mural designed by a nationally-recognized artist? It's a collaborative project involving all four of the elementary school students in the Midtown Cluster - including Hope-Hill, Mary Lin, Morningside and Springdale Park - and it is a BIG DEAL! Called "Hands Across A Community," the project is our culminating activity for the district's No Place for Hate® program. Our counselor, Ms. Mellick collaborated with counselors at the other three elementary schools to create classroom lessons that focus on the message that we are unique as individuals, but together we are all part of a larger, vibrant APS Midtown Cluster community. Parents from each of the Midtown elementary schools worked together to bring on a local muralist and teaching artist, Yehimi Cambrón, to involve the students in creating a mural. You can see HERE some of her work found throughout the city - you may have already driven by some of her murals! In the fall, each one of the schools will install a piece of the kid-created Midtown mural in the building. Below is a picture of some of the work that the students have done throughout the process.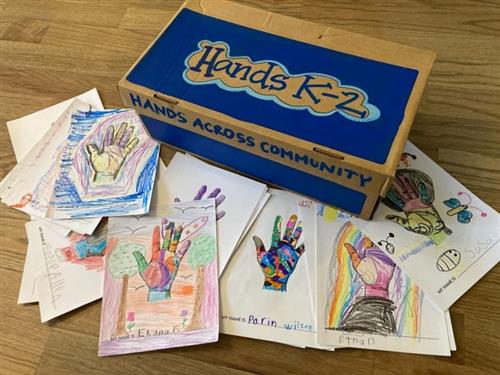 The artist will be visiting MES on Thursday as part of the Field Day festivities! She'll be on the Virginia Avenue side of the school near the picnic tables and No Place For Hate rock garden from 8:30 am until 2 pm. Every MES student will cycle through the popsicle and art 'zone' as part of Field Day. If you're in the neighborhood and would like to meet Yehimi Cambron and see the mural concept, please come by.
APS has encouraged participation in the No Place for Hate® initiative since 2015, and Morningside has led activities each school year. Schools participate in programs around the goal of creating a welcoming and kind community, committed to stopping all forms of bias and bullying. We recently got word that our school has again achieved our No Place for Hate® designation for activities this school year!