Posted by Audrey Sofianos on 10/23/2020 3:00:00 PM
Parents/Guardians, thank you for all that you are doing in support of your child(ren) as we move forward in the virtual learning space!! I appreciate your continued commitment to make sure students are engaged and attending school, our log-in rates remain super high! I would also like to thank our AMAZING kids who participate every day, it just fills me with joy to see our students interacting via Zoom, doing their work, learning from teachers and each other!
Even though our re-opening date has been postponed, our planning continues! This coming week (mid-week or later) we will be unveiling a new area of our website called "Reopening Plans". The administrators and members of our Covid Readiness Team have been working these past weeks to look at all areas related to re-opening, including Health, Facility, Flow, Communications, Learning Structures and Cohort. We have researched and are providing detail to all operations and logistics so that Morningside will reopen with as much reduced risk as possible for our students and staff. The Covid Readiness Team, made up of volunteer parents and teachers has been spending COUNTLESS hours working in these smaller teams to find the latest research and best practices in each area. I am in awe of this team and so thankful for their contribution of time and expertise. I cannot wait to roll-out the information for all to see! You can find more information on our planning process here, Covid Readiness, while the "Reopening Plans" section of our website is set to open as early as October 28th. Last week, after seeing an article on a local school's success at reopening, WSBTV News Story, I was so honored to meet with the Head of School at The Galloway School, Dr. James Calleroz White in a meeting arranged by Dr. Holly Brookins, Principal of Glennwood Elementary in City Schools of Decatur.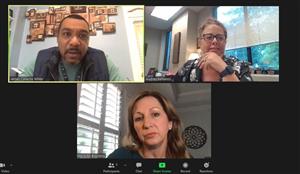 This was an incredibly valuable meeting, as Dr. White shared what they have learned, what has been successful and what challenges they have faced in reducing risk of Covid-19. School leaders collaborating across private, public and among two districts plus our MES Covid Readiness Team are just two examples of the work going on as we prepare for student return. I am so grateful to Dr. White and to Dr. Brookins (our former Program Administrator at the Kindergarten Center) for their openness and desire to help all kids across Atlanta. When Morningside reopens, we will be ready!
I love all the special kid activities that have been happening or are planned at our school. Thank you to the best librarian in the world, Mr. Rawls MES Library, for the Halloween Themed Scavenger Hunt and for starting the book check-out process! I know we will be doing a Scavenger Hunt all over Morningside neighborhoods again - this was a huge hit! We also have our Dolphin Toolkit Pick-Up #2 on October 30th as we strive to get more instructional materials into kids' hands! This will be a fun Halloween themed pick-up, with costumes encouraged for both students and teachers. Though we are not having our annual Monster Bash and Fall Festival, this is a way of honoring that tradition during the pandemic. This will also be the first time most of our students will see their teacher in-person, even if it is just for a few minutes! Remember to wear those masks and practice social distancing, it is our hope that this pick-up can take place outside, though we do have an inside pick-up rain plan.
Please reach out if I can help. I am looking forward to the day when we can return to school. Until then, we are going to stay focused on enhancing the virtual school experience and meeting the individual needs of each child!!