Carver School of the Arts mission is to infuse academic rigor with artistic excellence. Through an interdisciplinary approach, students will experience learning through theory and practice with real world opportunities for application. The instructional outcomes will enable students to make informed decisions for post-secondary success.
---
Teach with fidelity

Upgrade the students you teach

Never give up on your students

Expect greatness

Utilize student's learning styles and talents to master content

Plan for positive performance and outcomes
---
CSOTA's Zoe Coleman explains why code switching is extremely important when faced with professional opportunities. Read Zoe's VOX Teen Communications Article Karma Karma Karma Karma Karma Chameleon and discover how one major mistake can easily prevent students from winning the BIG prize.
Read Zoe's Article
October 3, 2014
Three Finalists Named for 2014-2015 Districtwide Teacher of the Year
Three Atlanta Public Schools (APS) teachers will compete for the APS 2014-2015 Districtwide Teacher of the Year during an awards ceremony at 5:30 p.m., Oct. 16, 2014 at the The Loudermilk Center – Atlanta Conference Center, located at 40 Courtland St, NE, Atlanta, GA 30303.
The 2014-2015 Districtwide Teacher of the Year finalists are:
Elementary School Teacher of the Year
Kesha Payne – Teacher, Grade 3
Warren T. Jackson Elementary School
Middle School Teacher of the Year
Barry Blackmon – English Language Arts and Social Studies Teacher, Grade 6
The B.E.S.T. Academy at Benjamin S. Carson Middle School
High School Teacher of the Year
Jayongela Wilder – Drama Teacher
Carver School of the Arts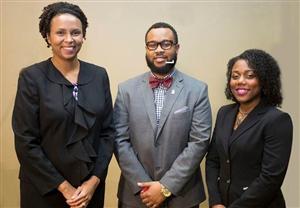 Atlanta Public Schools Candidates for Teacher of the Year are nominated by their respective schools. APS then selects an elementary, middle school and high school teacher of the year from a list of semi-finalists to compete for the districtwide honor. Photo Credit: Scott Clark King
---
About Atlanta Public Schools:
Atlanta Public Schools is one of the largest school districts in the state of Georgia, serving approximately 50,000 students across 106 learning sites. The district is organized into nine K-12 clusters with 87 schools, 17 charter schools and two citywide single-gender academies, where students are offered rigorous instructional programs that foster success in school and life. For more information, visit