2015 Grady Prom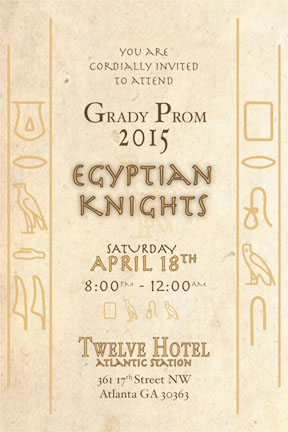 Atlanta Virtual Academy Summer Registration

Credit Recovery Parent & Student Meeting/Saturday Online Camp

A Credit Recovery Parent and Student Meeting is scheduled for Tuesday, March 24, 6:00 pm in the Cafeteria. The purpose of this meeting to assist your child in being successful in the online environment. Parents and students are encouraged to attend to receive information and available resources for online credit recovery. In addition to the parent and student meeting, Grady will also host a Saturday Online Camp to provide needed support. The Saturday Online Camp is scheduled for March 28, April 18, and April 25, 9:00 AM-12:00 Noon. Please contact your child's counselor or graduation coach for additional information

IB Information Session and Q&A/City Wide Town Hall Meeting

Join Atlanta Board of Education At-Large representatives with APS staff, parents, and students for a presentation and panel on the International Baccalaureate Program Tuesday, March 31, 2015 at 6:30pm in the CLL Auditorium.

Download the informational flyer

here

.

Grady Cluster Planning

Below is the link to the Grady Cluster Planning website that has meeting agendas, notes, presentations, and all of the hand-outs from March 9th. The Cluster planning site has a link to a short follow-up survey from the March 9th meeting. All members of the Grady community are invited to take the survey. All input is appreciated.

Tentative Assessment Calendar Spring 2015

Click

here

to download/view the tentative assessment calendar for Grady High School, Spring 2015.

Purchase Fashion Show Tickets Online!

To purchase tickets for Une Belle Revolution presents "Belle Fleur" Senior Fashion Show click the link below:

AP Exam Order Form and Information


To download the AP Exam Order Form click

here.

Updated Tutorial Resource Information

To download the updated Tutorial Resources Document prepared by our counselors, click

here

.

VISIONS/GRADUATION Information

Grady's Senior Class of 2015 will celebrate "Visions of the Future" May 16, 2015, at 10 AM in the Historic Gymnasium.

Grady's Graduation is Friday, May 22, 2015, at 3:00 PM. (The procession will start at 2:50 PM.)
Location: Georgia World Congress Center/Hall A3
285 Andrew Young International Blvd., NW
Atlanta, GA 30313
Parking Cost: $10 (Cash or credit/debit card)
(Information about the number of tickets is coming soon.)


SENIOR FEES


Seniors MUST pay senior fees in order to participate in Visions of the Future, Graduation and any end-of-year activities. Payments (cash or money orders ONLY) will be accepted by Ms. Rhodes-Igherighe in the Main Office daily from 9:00-11:30am and from 3:30-3:45pm (except on Fridays). For a small handling fee, senior fees may be paid online via the Grady website. Create a username and password to make your payment. Remember to print confirmation and/or a receipt of your transaction.

For students who pay between November 8 and February 20, 2015, the total amount is $200. For students who pay on or after February 21, 2015, the total amount is $210.