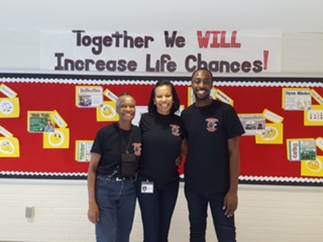 Dear Parents and Guardians,
It is with great pride and excitement that I write this letter of introduction to you as the newly appointed Principal of Continental Colony. I am honored to have the opportunity to lead a school with such a rich tradition that has produced so many outstanding students. I look forward to fostering relationships and working with you to provide a world-class educational experience for your child.
I have been dedicated to the field of education for fourteen years with a specific concentration in early childhood, curriculum and instruction, and mathematics. My most recent administrative experience has been shaped by four years of successful leadership as an elementary assistant principal. Deciding to become an administrator came from a strong desire to make a positive impact on an entire school community as well as the desire to help build the capacity of teachers and students as we move into a challenging 21st century. I am elated to bring my skills as an educational leader to Continental Colony and to work with you as a partner in education to ensure our students' success. Along with teachers and staff, I will work hard to continue the legacy of success established at Continental Colony by building strong relationships with parents, students, and community partners. We will focus on literacy development, the Georgia Standards of Excellence, use of data to inform instruction, consistent implementation of the gradual release model to increase student achievement, and providing exciting and challenging enrichment opportunities for all students.
Our work this school year will encompass the underlying theme, "Together We WILL Increase Life Chances." My passion is to ensure that all students achieve their highest potential. For children to reach their greatest potential and become life-long learners, it takes a partnership of committed administrators, teachers, parents, support staff, and community. Please help us reach our vision of increasing life chances by making sure your child attends school each day. Instruction begins promptly at 8:00 am. Instruction will not end until 2:30 pm. Please ensure your child is present to gain knowledge of the Georgia Standards of Excellence each day. Additionally, you can help increase your child's reading levels and help your child meet his or her reading goal by reading for at least thirty minutes each night.
As your principal, it is important to me that everyone who steps through our doors—teachers, students and parents—are excited to be here! This attitude enables us to meet the challenges of academic excellence in a positive, fun, and nurturing environment.
Respectfully,
Kristen Vaughn Ed.D.
kristen.vaughn@atlanta.k12.ga.us
404.802.8000
Principal