Warrior Staff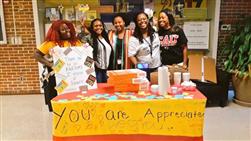 Douglas Cluster Events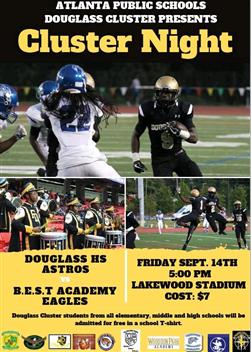 Remembering Dr. McClendon
SEL Events & Activities Photo Gallery
Announcements
School Colors: Pre-K - 4th Grade - Khaki & Navy Blue Bottoms with Navy Blue or White tops. 5th grade only Khaki & Navy Blue Bottoms with Gold Tops
Taking A Look Back...
August 19, 2013

Greetings Parents, Guardians and Community Partners:

Welcome Back to Carter G. Woodson Primary School!! We are excited and enthusiastic as we embarkon the 2013-2014 academic year. Lastyear we celebrated many firsts (1st) including:

· 1styear as a primary campus (including Pre-K through 2nd grade)

· 1styear implementing Common Core Georgia Performance Standards (CCGPS)

· 1stTarget-funded media center renovation

In addition to our firstswe had additional accomplishments including:

· Our2012- 2013 Teacher of the Year, Ms. Carla Daniels, was named the Teacher of theYear for Atlanta Public Schools at the Elementary School Level. (Ms. Charon Kirkland was named the Teacher ofthe Year for Atlanta Public Schools when Woodson was K-5).

· Our2013-2014 Teacher of the Year, Ms. Chiara White, is a semi-finalist for theTeacher of the Year for Atlanta Public Schools.

· Ourpartnership with Buckhead Church afforded us our leadership retreat as well as field trip opportunities for every child on every grade-level.

· Ourpartnership with Pepsi Company provided book bags for the majority of ourchildren.

· Weextended our Community of Believers to include:

o Wordof God Ministries/Northwest Youth Power

o Buckhead Church

o Buckhead(Carl E. Sanders) YMCA

o GeorgiaState University

o AtlantaCommunity Ministries

o AtlantaFood Bank

o Fountainof Hope Church.

This year, we plan to use these firsts as a foundation to continue our trajectory of academicexcellence. Thank you for sharing yourbeautiful, brilliant children with us and thank you for continued support.

Great Thanks,

Dr. Susan Crim McClendon

Principal
Woodson Primary Elementary is proud of the community partnerships that it has! You can find individual pages for each of our partners in education under the community tab at the top right of this page. You may click on the name of our partners in education below for quick access to each of their websites.