Jester Success at Peach State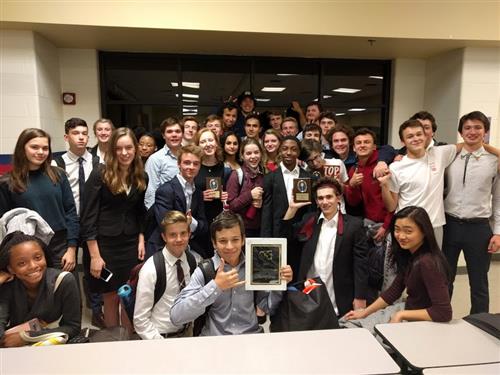 In the biggest Speech and Debate Tournament in Georgia to date, with 500 students from 5 states, the Jesters were AWESOME!

Extemporaneous Speaking: Franky Fernandez, 2nd Place; Theo Weimar, CHAMPION

Impromptu Speaking: Theo Weimar, 3rd; Franky Fernandez, CHAMPION

Novice Public Forum Debate: Mills Rentz-Baker & Will Tanner, Quarterfinalists; Liam Herman & Maxwell Murphee, Quarterfinalists; 7th Place Speaker, Will Tanner

Program of Oral Interpretation: Liliana Chanler, 5th Place; Taylor Jackson, 3rd Place

Varsity Lincoln-Douglas Debate: Semifinalist, Alex Opsahl

Varsity Public Forum: Ethan Damiani & Jack Rafferty, Partial-Octofinalists; PJ Cooper and Zach Hubert, Quarterfinalists

Duo Interpretation: Adam Miller and Maximus Freightman, 5th Place

Novice Lincoln-Douglas Debate: Charlotte Spears, Quarterfinalist; Griffin Richie, Semi-finalist; Nicolas Kamel, CHAMPION
EF Tours D-Day 75th Trip
The D-Day 75 trip commemorates the 75th anniversary of the Normandy landings. Students will travel to London, England; Paris & Normandy Region, France; Bastogne, Belgium; Munich & Salzburg, Germany. They will participate in D-Day memorial celebrations, and tour WWII memorial sites (Dachau Concentration Camp Memorial Site, Eagle's Nest, British War Rooms, Siege of Bastogne Memorial), as well as visit local landmarks (Eiffel Tower, Marienplatz's Glockenspiel). 13 days of amazing adventures—June2-14, 2019.

Go to www.EFtours.com<http://www.EFtours.com> to register or call 800-665-5364 (please use tour #: 2071122EK to register). For more information and to look at the detailed itinerary go to: https://www.eftours.com/tour-website/2071122EK

***This is a community tour (not APS) and other local area students will be invited to participate. Students must sign a waiver. This trip is open to current high school students, rising 9th graders, and those who will graduate through 2019—as long as they are under 20. Any adult (20 +) who would like to attend may also register. The EF Tour D-Day trips will not happen again.
November is Homeless Awareness Month