2020-21 Student/Parent Email Contact Information
We encourage all Grady students and parents to please complete so that you're able to stay in the loop by receiving valuable information throughout the school year.
---
Governor's Honors Program
The nomination process for the 2020-2021 Governor's Honors Program (GHP) is now open. GHP is a

four-week residential program designed to provide intellectually gifted and artistically talented 10th & 11th grade high school students challenging and enriching educational opportunities not usually available during the regular school year. This program will be held on the campus of Berry College or Virtually June 13-July 10, 2021. Students must be nominated by a teacher to be eligible to apply. Please see PowerPoint for more information regarding the nomination process. You may contact Counselor, Dr. Blankenship at sblankenship@atlanta.k12.ga.us if you have additional questions regarding regarding GHP.
---
Math Club Interest Meeting
Calling All Mathematicians! Join us for the first meeting of the Math Club on Tuesday 9/22 from 3:00 - 3:45 via Zoom. If you would like to attend the interest meeting, email Ms. Robinson (gina.robinson@apsk12.org) for the Zoom link.
Math club is a student driven. We discuss topics of interest to our members, ponder some interesting problems, and participate in a few competitions.
Math club will meet monthly on the third Tuesday of each month: 9/22, 10/22, 11/17, and 12/15 this fall.
---
Gifted Testing Parent Referral
The Gifted Testing Parent Referral Window is open SEP 1 through SEP 30 – To request a form to refer your child for gifted program eligibility testing this school year, please Click Here for a video orientation to gifted eligibility testing in addition to the location of the electronic parent referral form. Gifted eligibility testing will take place early in the spring semester this school year.
---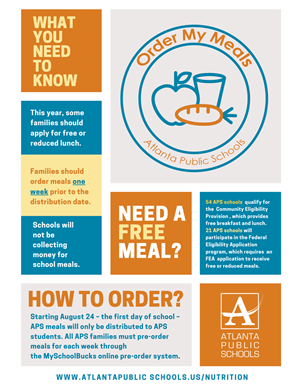 The next meal distribution date is Tuesday, Sept. 14. All APS families must pre-order meals for each week through the MySchoolBucks online pre-order system. Those orders must be placed no later than one week before distribution.
Due to the Labor Day holiday, families must pre-order meals no later than 11:59 p.m., Tuesday, Sept. 8. Once in the pre-order system, you can select whether you will pick up the meals at one of the school sites or if your meals should be delivered via a school bus route. Families paying for meals will need to submit payment through the MySchoolBucks online payment system. Schools will not be collecting money for school meals.
For more information, visit: https://www.atlantapublicschools.us/Page/63224.
---
APS Student Calendar 2020-21
---
2020-21 Registration Flyer
---
FAQs About the 2020-21 School Year
---
2020-21Grady Course Catalog
---
---
Yearbook Updates for the Class of 2021
Senior Class Picture retakes will be held Tuesday, September 22nd through Thursday, September 24th in Grady's Cafeteria from 3:30 to 8:00 p.m. Cap and gowns & formals only. Casual wear not included. Call Prestige Photography for an appointment at 770.485.2117. The $30.00 sitting fee may be paid on site.
After you have paid $5.00 for your senior baby pictures, go to Google Classroom, "Class of 2021 Baby Pictures" to scan and upload your picture. Contact Ms. Blair at gblair@atlanta.k12.ga.us for the Google Classroom code.
Because of COVID19 restrictions, the yearbook staff needs you to contribute your own personal pictures and stories to the yearbook. Join Google Classroom, "2021 Personal Pictures and Stories". Contact Ms. Blair at gblair@atlanta.k12.ga.us for the Google Classroom code for a chance to have your story included in this yearbook.
Finally, the deadline for Senior Personal/Tribute Ads is Tuesday, November 9th. Please, Please, Please, don't wait until the last minute. This deadline will not be extended!!! This is your time to shine a spotlight on all of your achievements. So gather all of your important pictures and put them into your own Personal Tribute Ad. Go to www.jostensyearbooks.com to purchase your personal ad.
Important Survey for all Juniors
---

Laptop/Device Support Conact Info
For parents/students who were issued a laptop or hotspot during distance learning:
Parents should call (404) 802-1000 if their child's loaner device breaks or they are having technical issues.