2017-18 Senior Night 9/19/17
All Parents of 12th graders are strongly encouraged to attend the annual Senior Information Night as vital information will be provided. See flyer below for details.
State School Superintendent Richard Woods Seeks Student Advisory Council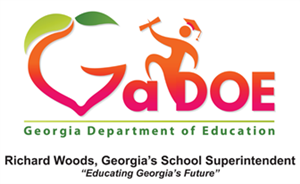 State School Superintendent Richard Woods is seeking middle and high school students to serve on his 2017-2018 Student Advisory Council. These students will meet with Superintendent Woods to discuss the impact of state policies in the classroom, along with other issues related to education, and will serve as the Superintendent's ambassadors to their respective schools.

Applicants must be enrolled in a Georgia public middle or high school for the 2017-18 school year. To apply:
·
Click here to download an application
·
Selected students will be
contacted via email
. All students can check
gadoe.org
, under News & Announcements, on
September 12 at 10 a.m.
to see whether they have been selected.
Middle school students will meet October 3, January 17, and April 10.

High school students will meet October 4, January 18, April 11.
ASQ Back to School Bash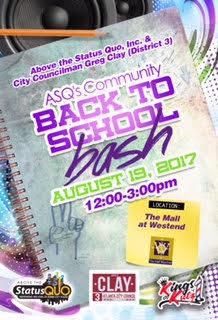 The Grady community is invited to the ASQ Back-To-School Bash! Above the Status Quo, Inc. (ASQ) is a 501c3 non-profit organization, established in 2015. ASQ in conjunction with Atlanta City Councilman Greg Clay (District 3) will be kicking off the upcoming school year with our first Community Back-2-School Bash! This is a FREE family fun event!
ASQ's Community Back-2-School Bash will be held on August 19th, 2017 at The Mall at West End from 12PM – 3PM. The ASQ Back-to-School Bash's goal is:
To provide 100 book bag and college starter kits to youth in attendance

To provide new uniforms for 50 elementary and middle school students

To increase awareness of local health services & resources for youth

To raise awareness around available community resources
We will have live entertainment, FREE health screenings, haircuts, raffles and much more! Our organization is dedicated to building a stronger sense of community, by making sure every student has the tools to succeed in school, but we need your help!
ASQ would like to invite you to come out to support and register to receive free school supplies, raffles and uniforms. We look forward to seeing you at the Back-2-School Bash!
To register for this event click this link: https://www.cognitoforms.com/ASQ2/ASQsBack2SchoolBashRegistrationForm
Supplemental Student Accident Insurance
If you are interested in enrolling for supplemental student accident insurance please complete the following:
1. Review the *Student Accident Insurance Coverage Enrollment Form that can be
2. Complete the (School Year 2017-2018) online application. The online option permits
payment by credit/debit card.
Remember to respond within 30 days of the start of school and your child is covered effective the
first day of school!
This limited Student Accident Insurance plan may help pay for medical bills associated
with an accident on an "excess" basis and may only pay for medical services that are NOT
paid for by your current insurance according to the schedule of benefits.
Click
here
for the parent letter from APS Department of Benefits and Risk Management.
Click

here

for the Student Accident Insurance Claim form.
Click

here

for the Student Accident Insurance Detail form.
2017-18 Student Contact Information
For the 2017-18 school year, all students are required to complete the Student Contact Information Link. This information is necessary for confidential mass electronic communication throughout the school year.
2017-18 Senior Yearbook Photo FAQs