Student Parent Email-Cell Contact Information
We encourage all Midtown students and parents to please complete this survey so that you're able to stay in the loop by receiving valuable information throughout the school year from the Guidance-Counseling-College Advising department.
---
Atlanta Public Schools is committed to creating a culture of student support, and supporting the needs of the whole child. One way we are addressing the whole child is by identifying student strengths and areas for growth relative to social, emotional, and behavioral well-being. In our continuing efforts to support the well-being of all students, we will be administering a universal screener of social, emotional & behavioral health. The assessment consists of a brief rating scale that will be completed by the teachers to aid in identifying students who may be at risk to develop academic or other school-related concerns.
In addition, students ages 8 and above (3rd – 12th grade) will be invited to complete a self-rating that will take 5 – 15 minutes to complete. We acknowledge the importance of parent input into this screening process, therefore parents of students grades Pk-12 will also be invited to complete a brief rating scale about their student(s). Together, this information helps us to understand the needs of all students, and to make effective plans to support those needs at the school, class, and individual levels. Please see attachment for steps to complete the parent screener. The deadline to complete the parent screener is October 1.
---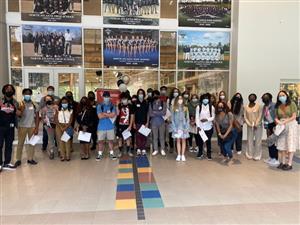 Midtown Knights on Friday September 17 participated in our first college visit of the 2021-22 school year. Next stop PROBE Fair. Good job for supporting our college going culture.
---
2021-22 Governor's Honors Program Student Step by Step Guide
---
Update Your Contact Information in Infinite Campus
Parents: You can update your contact information (phone/email) on the Infinite Campus Parent Portal! See the quicksheet below for instructions:
---
Here Comes the Bus
ABC Calendar Rotation 2020-21
---
Midtown HS Regular Bell Schedule 2021-22