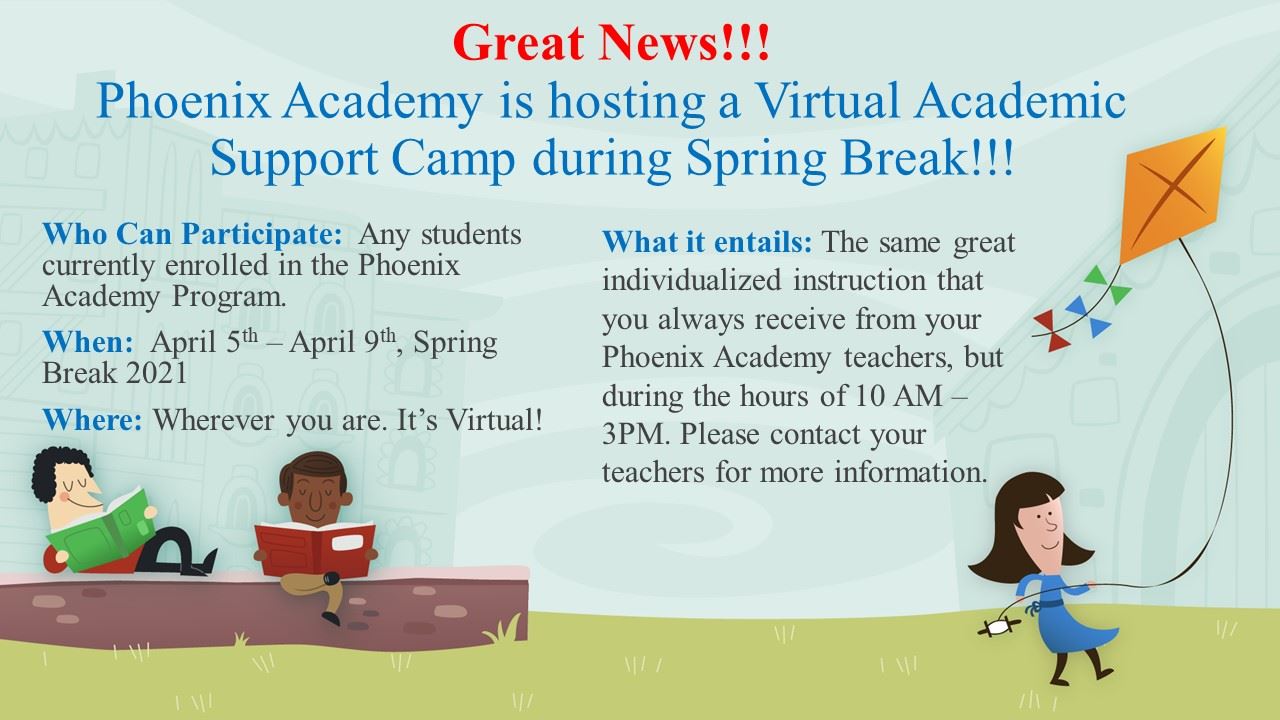 APS is Here to Guide You On Your Way to Graduation!!

In preparation for APS' Return+Learn 2nd Phase Re-Opening, please refer to the document below for Phoenix Academy's COVID compliance, guidelines and expectations:
Do you need to speak with our School Social Worker?

Do you need help with housing or childcare?

Do you need to speak with the Counselor regarding your classes?

Do you need advice regarding College & Career?

We have the perfect place for you!!! Come visit the C.L.U.B. House!!!!

Our C.L.U.B.House provides access to Counseling/College & Career, Learning Support, Upliftment via social services, and a Breathing Space via WellSpring Living Services. Come check us out, so that we can get you in touch with our wonderful staff who is here to help you. Click Here or on the logo above.
COVID-19 Did Not Stop The Phoenix Family from Showing Our Love To Our Administrators this Holiday!!

We are SO thankful for the support, guidance and wisdom of our Leadership Team! Wishing a Happy Holidays & Magnificant New Year to Dr. Mobley (Principal), Dr. Nosegbe-Okoka (Assistant Principal), & Dr. Gilbert (Assistant Principal). You are the reason why we are Phoenix Strong!
Phoenix Academy Receives an APS Mini-Grant for Well-Being
10 APS Schools Receive $1,000 Mini Grants


Ten APS schools have each received $1,000 employee well-being mini grants. The grants will be used to bring increased awareness and support for the mental and physical well-being of Atlanta Public Schools' valued employees. Improved employee well-being is linked to better attendance, engagement and retention. Made possible by the W.K. Kellogg Foundation, the grant funds are awarded to those proposals that best support the mission and vision of APS and the well-being of APS's employees. Funding is used to revamp existing or introduce new well-being programs so that all employees can have access to healthy choices physically and emotionally. Grants are for physical activity, nutrition and emotional well-being initiatives, including: relaxation rooms, yoga classes, healthy cooking, fitness boot camps, mindfulness training, and staff lounge upgrades and more.
The following schools received grants:

Coretta Scott King Young Women's Leadership Academy

Hollis Innovation Academy

Phoenix Academy

Perkerson Elementary School

Hope-Hill Elementary School

Brown Middle School

Heritage Academy

Kimberly Elementary School

Burgess-Peterson Elementary School

Young Middle School
Top Headlines & Important Feature Information