MAJ Important Dates
Friday

October 27, 2020

October 28, 2020

October 29, 2020

October 30, 2020

November 3, 2020

November 23, 2020

November 24, 2020

November 25, 2020

November 26, 2020

November 27, 2020
View Calendar
Connect with us via Remind!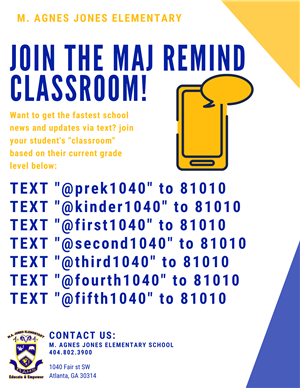 Learn More About M. Agnes Jones
Agnes Jones Elementary School provides a learning environment that facilitates standards-based instruction connected to the world outside the classroom.

Students at MAJ have homework Monday through Thursday evenings. Here are a few hints to help maximize your child's homework experience!

Strong Schools Start With Me! Find out more about our school & community initiatives and how you can help!