---
Random Acts of Kindness Week!

---

---
Educational Fun...Whiz-O-Ween!
---
Red Ribbon Week
---
It'a Cultural Extravaganza!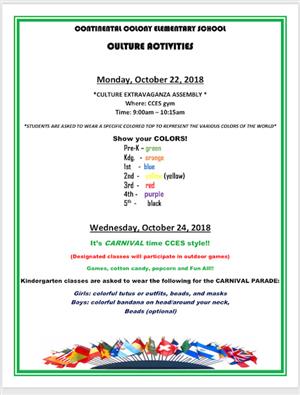 ---
Welcome!
Goodbye Summer and Hello Fall!





It is always exciting to start a new year; like a fresh start into a new journey. It is my pleasure to welcome everyone for another great year at Continental Colony Elementary School. We are all excited to have students back in the classrooms and hallways filling them with energy and enthusiasm for learning. Our mission is to develop compassionate and knowledgeable life-long learners through the progressive implementation of international instruction and rigorous assessment. We strive to ensure we prepare all little panthers with the skills necessary to be successful in this ever-changing world. I appreciate you building relationships with students to engage them in the work of increasing their life chances. I value your hours of planning and creating classroom activities to engage our students in learning. I recognize how you utilize research-based best practices and analyze academic data to determine current skill levels and to set goals for growth and improvement.



We must continue this hard work and dedication. Remember, teachers have the power to change kids' lives. I am humbled to serve as your principal and I will continue to be a teacher and scholar advocate. It is truly a privilege to be a part of a community where parents, teachers, and students care for each other and strive to build positive relationships that support academic and social growth. Please feel free to contact me at 404-802-8000 or kristen.vaughn@atlanta.k12.ga.us<mailto:kristen.vaughn@atlanta.k12.ga.us>.

Together We Will Increase Life Chances!
---
Continental Colony Elementary School - Home of the Prowling Panthers
Students, Parents and Community Stakeholders,
The faculty, staff and students would like to welcome you to our school website. This is an excellent way for all stakeholders to stay informed about what is happening in our school. We are located in Southwest Atlanta at 3181 Hogan Rd. The school was built in 1962 under the lead of Superintendent Dr. John W. Letson. It has remained a thriving K-5 school in the Greenbriar Mall area. Due to its history and remote location, the school works in strong collaboration with the local community.
We hope that you find our school is a warm and inviting place. Continental Colony Elementary is a community school that is committed to our students and focused on continuous improvement. At Continental Colony, we strive to offer our students the best quality education possible.
Daily we strive to offer our students a vibrant learning environment that will challenge them to perform to their highest potential. We will work together to achieve this through high expectations, standards-based data-driven instruction and critical thinking. Nothing works without you! Welcome to the Continental Colony family.
Yours truly,
The Continental Colony ES, Faculty and Staff