Strong Schools Update - Feb. 2017
Tower Garden Serves Students Sustainability Lesson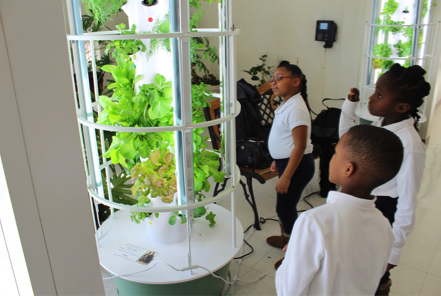 Swiss chard, watercress and bok choy aren't the types of greens most elementary school children are used to, but they're everyday menu items for students at Cleveland Avenue Elementary.
"I like all tomatoes except the orange ones..." says first grader Tayla O'Kelley.
O'Kelley and her classmates have come down with a serious case of green thumb. They are all working together to care for the school's two "tower gardens". Each stands four feet tall, sprouting radicchio, chives, celery, dill, cilantro, green romaine, 4 types of lettuce, arugula, cauliflower, and 2 types of kale. The aeroponic growing system can house up to 28 vegetables, herbs, fruits and flowers in less than three square feet. The vertical, soilless garden delivers water through a fountain at the center of the cylinder that feeds each of the pots.
In addition to promoting good nutrition, Principal Anyeè Payne says the tower garden has helped create an active learning environment. Math lessons are incorporated as students are encouraged to measure and chart plant growth. Vocabulary and writing are incorporated when learning agricultural terms and the proper names for veggies. And learning about seed germination, plant anatomy, and the nutrition that plants give our bodies ties in science.
"An added benefit is that kids experience the joy of seeing the growth of the produce they plant," Payne said. "They love growing their own food, seeing the cycle of life, and enjoying the benefits of their labor when they get to eat."


Students also witness first-hand, the importance of sustainability and healthy eating. "Our community is in the middle of a food desert, so the tower garden has been a great way for kids to learn more about nutrition and a farm-to-table approach to healthy living," says Principal Payne.

The school's first growing cycle started in January 2017 and they've already reached a full harvest! Cleveland students and teachers do all the planting and harvesting. Once the harvest in rendered, students, staff, and parents are able to participate in school-wide tasting experiences such as Salad in a Jar parties and STEM night.

The project has proven to be so successful, Principal Payne says the next step is to add additional tower gardens, one for each grade level.