Hollis Receives 2 District Awards at the APyeS! Awards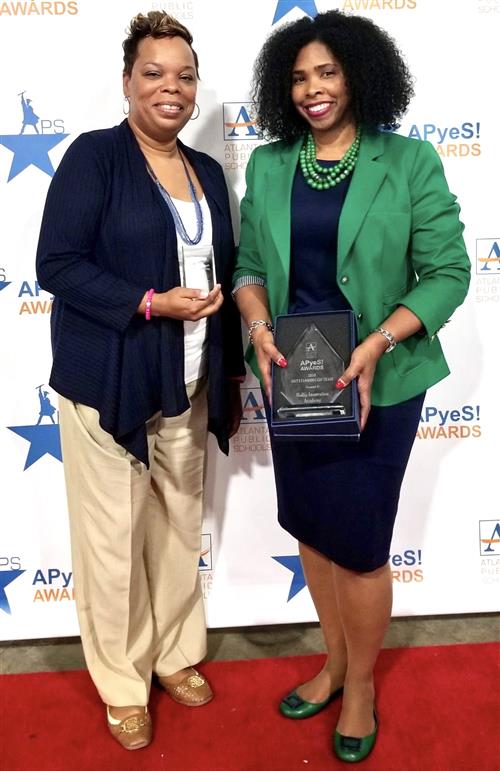 In addition to recognizing our awesome "Excellence in Teaching" honoree (Nichole Jones) and our "Students First" honoree (Valeria Fowlks, not pictured) at the APyeS! Awards, Hollis also received two 2019-2020 District awards:
Excellence in Family Engagement School Based Award
Outstanding GO Team Award
Excellence in Family Engagement School Based Award
The award criteria included, the hosting of reoccurring events to engage families at school and or in the community, reasonable success in engaging families, promoting diversity in family outreach opportunities, playing an active and useful role in the community as well as in the school and demonstrating integrity and maintains honest and equitable relationships with students, parents, and APS employees.
"In addition, we also observed your Academic Parent Teacher Team meetings and student led conferences models which showed an increase in parent attendance, engagement and satisfaction through parent surveys." (APS Office of Family Engagement statement)
Awards were evaluated on five themes: innovation, home-school relationships, equity, academic partnering, and two-way communication.
Outstanding GO Team Award
This award is designed to recognize a GO Team that has demonstrated a commitment to creating a culture where teachers, parents, and community members actively and authentically participate in school level governance, fostering innovative ideas to increase family and community engagement and student achievement. GO Teams were evaluated on the following criteria:
Commitment to Leadership
Shows commitment to the governance process by holding at least 6 meetings per year, noticing meetings to the public and ensuring all meeting materials and members are listed on the website.
Demonstrates understanding of shared governance through communication, collaboration, and mutual accountability with all stakeholders in executing the school's and Atlanta Public Schools' vision
Acts as critical connector to families, staff and community
Develops a strong community involving a range of stakeholders
Forms committees or stakeholder groups to address issues and has made progress in addressing that issue
Leads outreach to specialized parent groups
Extends invitations to other parents to provide input on school decisions under the GO Team purview
Encourages two way communication
Encourages communication between the school and school community
Promotes use of available communication channels to support governance
Promotes outreach to parents
"Your team has demonstrated success in being committed leaders, involving a range of stakeholders in the decision making process and promoting two way communication. We thank you for the work you have done and look forward to the work you will do for all students and their families." (APS Office of Family Engagement statement)