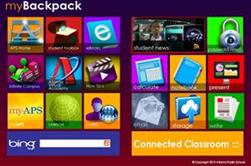 The Department of Instructional Technology is excited to offer a unique 21st Century learning space for every student in Atlanta Public Schools. myBackPack is accessible from any device and provides students with access to digital learning tools, e-books, secure email, cloud storage and the complete Microsoft Office Suite.

The national Common Core Standards are preparing our students for the integration of 21st century skills and content mastery. Atlanta Public Schools is dedicated to meeting this challenge through an increase of digital student projects that demonstrate mastery of the common core standards, extended learning opportunities beyond the four walls of the classroom and a focus on digital citizenship for each and every student.

Parents and students can access myBackpack by using the following steps.

1. Through an Internet connection –navigate to https://mybackpack.apsk12.org

2. Students should enter their APS student computer login id.

3. The myBackPack screen will load with your unique username and password.

4. For questions or concerns please email: mybackpack@aps.k12.org

APS students are ready to meet the challenge of 21st Century Learning!