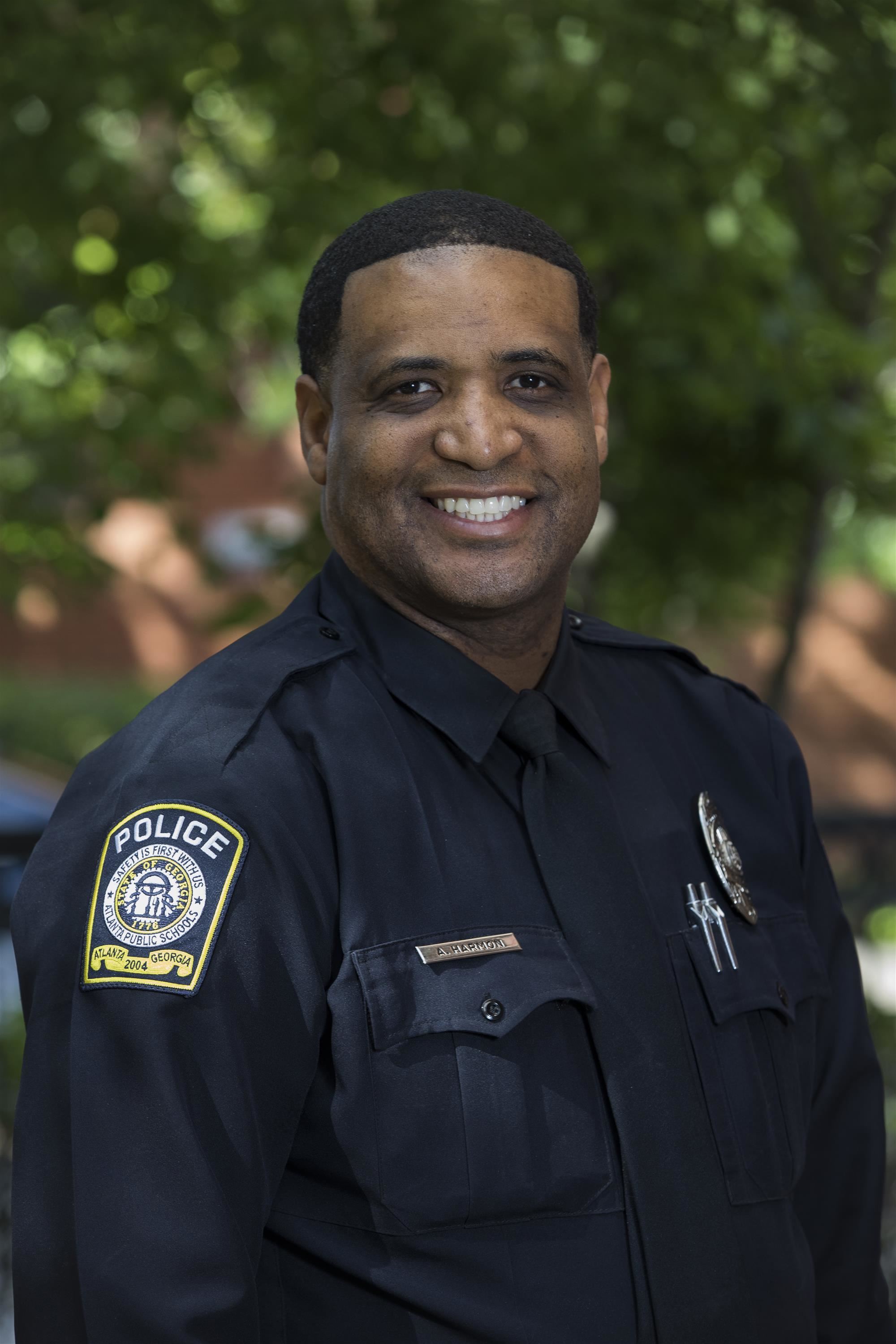 Phone: 404.802.3532
Email:
Degrees and Certifications:
Dr.

Ajani Harmon

Training Specialist

Dr. Ajani J. Harmon, Ed.D. been with the APSPD since 2016, in the role of Training Specialist. He comes with 21 years of service to the citizens of Atlanta, in his previous roles as an: middle school educator, police officer, police detective, policy analyst and writer, AmeriCorps Member, trainer, volunteer coordinator, special events coordinator, and accreditation analyst. He is responsible for working directly under the supervision and direction of management. As such, the Training Specialist implements appropriate training plans and curricula related to the safety and security of staff, which entails coordinating all training activities in support of sworn and civilian, staff and students and other audiences. Moreover, the Training Specialist also develops schedules, monitors online, virtual and classroom professional development opportunities for the department's personnel as it relates to safety, security, law enforcement and emergency management and crisis response.

"My favorite part of working with kids/APS is showing them, that, they too can achieve their goals and aspirations. As a graduate of Atlanta Public Schools (Beecher Hills Elem. School, 1987; Southwest-Young Middle School, 1990; & B.E. Mays High School, 1995), I proudly share my educational and professional story, during course introductions, which always includes my gratitude for the outstanding educators that had guided me along the way to achieve my goals."
Phone: 404.802.2017
Email:
Degrees and Certifications:
B.A. Political Science/Pre-Law Georgia P.O.S.T. Certification R.A.D. (Rape Aggression Defense) Certification Terminal Agency Coordinator Certification
Khristia Bynum

Investigator

Investigator Bynum has been with the Atlanta Public Schools Police Department since 2016 in the roles of School Resource Officer and Investigator. She comes with over 16 years of law enforcement, federally and locally. Investigator Bynum is responsible for investigating criminal acts, to include interviewing witnesses and interrogating suspects. Her hobbies include: traveling, exercising and spending time with family and loved ones.

"My favorite part of working with the students, is seeing the smiles on their faces when I have positive interactions with them."
Phone: 404.802.5253
Email:
Degrees and Certifications:
Nadia Byrd

Investigator

Investigator Nadia Byrd has been with the APSPD since 2016 in the role(s) of SRO and now Investigator. She comes with 15 years of service to Fulton County and Douglas County communities.

"My favorite part of working with kids/APS is having the opportunity to be a positive influence for our students while helping guide them through this part of their journey to become educated, productive citizens in the communities in which they live."
Phone:
Email:
Degrees and Certifications:
Daniel Lomax

Investigator

Daniel Lomax has been with APSPD since 2019 in the role of a School Resource Officer. He comes with 13 years of law enforcement experience. He is responsible for investigating incidents that occur throughout the APS school district. His hobbies include traveling with his family, playing basketball, and doing handy work around the house.

"My favorite part of working with kids/APS is the joy it brings me to know that I have the opportunity to make a positive difference in the lives of our future leaders."
Phone:
Email:
Degrees and Certifications:
Kimberly Chamblee

Investigator

Investigator Kimberly Chamblee joined the Atlanta Public Schools Police Department in May of 2016 bringing 20 years of law enforcement experience. In 1999 she began her career in law enforcement with the Department of Juvenile Justice where she spent 6 years protecting and serving as a steward over the lives of young juvenile offenders in Eastman YDC. She subsequently moved on to the United States Navy where she served 8 years and had the opportunity to serve as a part of the Auxiliary Security Forces in Yokosuka, Japan, a mentor in the DEFY (Drug Education For Youth) Program, and as a SAVI (Sexual Assault Victim Intervention) Advocate. Investigator Chamblee is responsible for conducting interviews, solving crimes, and identifying/detaining suspects.

"My favorite part of working with for APS is every time I report to work it is an opportunity to create a safe, supportive, and secure environment for each student to be the best of themselves."