News from Ms. Mitchell
April 15, 2019
Dear Parents/Guardians,Now that we have returned from Spring Break, I have a few spring updates to share with you. The end of the year is rapidly approaching. Please see important information listed below
Temporary Relocation (Due to renovations)
The school will receive renovations next year. Humphries will move to a new location for one year. We will move to the closed Campbell Elementary School. The location is off Jonesboro at 21 Thirkeld Ave SW, Atlanta, GA 30315. The location is the closest vacant site near our school. All students will be transported on buses. Make sure you have provided address and phone information to ensure your student is routed on the bus. I have provided a snapshot of information below.
The New Humphries Elementary coming in August 2020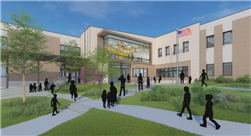 Testing
Students in grades 3 – 5 will take the Georgia Milestones State Assessment starting May 1, 2019. Students must arrive each day by 8:00 AM. If students arrive after the test begins, they will miss that section for the day. Please make sure your student gets a good night's rest by going to bed by 8:30 PM the night before each testing day. Let them know the seriousness of doing well.
Field Day
Our annual field day will be May 17, 2019. Field day t-shirts will be on sale starting Monday, April 15 - May 1. The shirts will be $7. Look for the flyer to come home soon.
Stay tuned for information about the spring promotions and honor's day programs.
Sincerely,
Melanie Mitchell