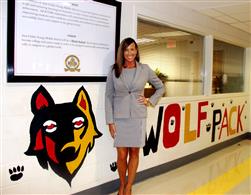 Prinicpal Kara Stimpson returns to Young for the second school year after serving for the past four years as principal of Morris Brandon Elementary in Atlanta Public Schools. She brings with her 19 years of education experience which combines years as a high school and middle school Language Arts teacher, a Middle School Dean and Director of Studies, and an Assistant Principal at APS' Sylvan Hills Middle School. She is a graduate of the University of North Carolina at Chapel Hill where she earned her BA in English and Middle Grades Education, Kennesaw State University where she earned a Master's Degree in Educational Leadership, and Georgia State University where she earned her Educational Specialist degree also in Educational Leadership.

Personally, Principal Stimpson is the proud mother of three children, a Sophomore at Piedmont College, an 8th grader who attends Sutton Middle School, and a 9th grader who attends North Atlanta High School in Atlanta Public Schools. She is an avid runner and has a passion for athletics. Principal Stimpson is honored to be the principal of Jeans Child Young Middle School and determined to lead the movement that results in success for every single child who enters our school doors.

Follow her on twitter @JCYMSPrincipal, send her an email at kmstimpson@atlanta.k12.ga.us, or pop in to see her. It is engaging with the community, parents, students, and faculty that energizes her to lead this work!