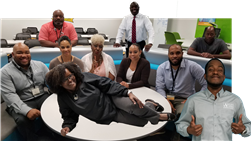 With a focus on customer service, partnership across the district and with an eye toward the future, IT Service Delivery (ITSD) plans, develops, supports and maintains computing hardware services for the APS community.

For the students: ITSD works to understand the educational need and provide IT tools that enhance the student experience and serve as stimuli for learning and innovation.

For the teachers: Working closely with the Instructional Technology team, ITSD equips APS educators with robust, readily available technology to support a wide spectrum of teaching methods and learning environments. From traditional classroom instruction to online learning -- alongside the blended and flipped instructional models that exist in between -- ITSD provides the necessary solutions, tools and access.

For administration and staff: ITSD delivers the devices and ongoing break/fix support to foster an efficient and effective work environment.