About Jean Childs Young Middle School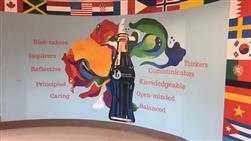 Students

Jean Childs Young Middle School serves approximately 850 students from the surrounding Southwest Atlanta communities. Students come to Young from 5 different feeder elementary schools: Beecher Hills, Cascade, Miles, Peyton Forest, and West Manor.

Academic Program

Jean Childs Young is pursuing candidacy to become an International Baccalaureate Middle Years Program World School (IBMYP). Students at Young participate in all core content areas of English Language Arts, Math, Social Studies, and Science and Health with additional offerings of Spanish, French, Dance, Chorus, Orchestra, Band, PE, Art, Engineering, and Business.

Social and Emotional Learning

Every child at Young is assigned an advisor. Students begin each day in their Advisory class where they participate in activies daily to support their social and emotional development. The advisor is their adult advocate at school and supports students socially, emotionally, and academically helping students to set and monitor goals every week.