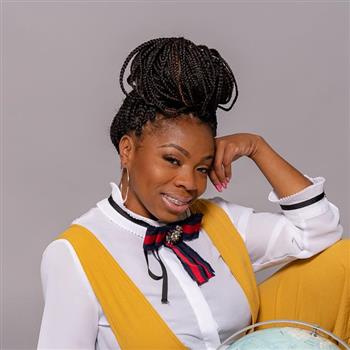 Phone:
Email:
Degrees and Certifications:
Ms.

Bradford

I am Applemania Bradford a proud of educator of 10 solid years! This upcoming school year, I will be entering my 11th year in the classroom. I've been dedicated to mostly early childhood education, with two years of second grade and eight kinderific years of kindergarten. I am very excited about teaching first grade for the first time in my career!

Aside from my experience, I hold three education degrees. I received my Bachelors of Science in Elementary Education and Masters of Science in Education Leadership from the illustrious HBCU, Florida A&M University. I received my Education Specialist degree from Piedmont College where I am currently enrolled as Doctoral candidate. Additionally, I hold a reading, ESOL and curriculum and instruction certification.

I am originally from Lakeland, Florida where I was born & raised, but officially a Georgia peach with nine years as a resident. Thanks to the best kindergarten teacher ever, Mrs. W, I decided to become just like her, a teacher. Her teaching style & partnership with families resonated with me throughout my life. She imparted real-world learning experiences with her students that can never be forgotten and because of her dedication & commitment to education, I became passionate about being an educator at an early age.

When I'm not empowering inside the classroom, I'm most likely empowering outside the classroom through my nonprofit, Teacher B.A.E, Inc. where we pride ourselves on unifying educators globally and delineating the importance of balance and self-care. I am a nurturing and cool #BoyMom to my seven year old son. I enjoy being a gourmet chef (in my eyes), working out and traveling all of which are a big component of how I self-care!

I am overly joyed about joining the SPARK family this upcoming school year and adding to all the great things SPARK is already noted for; the eco-friendly environment, affording opportunities for students to connect with the real-world , and cultivating partnerships with the parents and community. I feel blessed to be adding a little more SPARK to SPARK with my leadership, innovation, and creative abilities to foster a rapport with my students, colleagues, parents & school community!
Last Modified on June 10, 2020