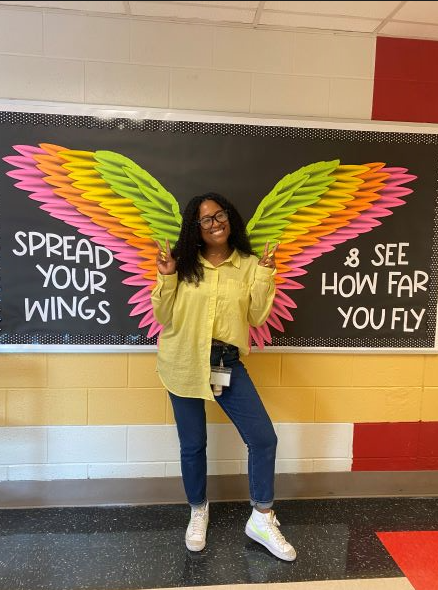 Phone:
Email:
Degrees and Certifications:
Miss

Tierra Allen

Miss Allen believes that every child should have the right to learn and gain a quality education. Every child that enters the classroom should feel safe and comfortable in an environment full of nurturing and enriching lessons that provide equitable opportunities. Developing a curriculum for all around students' interests that initiates intrinsic motivation and kindles the passion to learn is what she brings to her classroom every day as a seventh grade Accelerated Mathematics and Life Science teacher at Jean Childs Young Middle, where she has been for 4 years.


For three consecutive years (2020 - 2022), Miss Allen has been an exemplary teacher in student-centered, differentiated instruction through the implementation of the Amplify curricula as well as a model teacher in Verizon Innovative Learning Technologies (VILS) to enhance student learning. Last school year (2021 - 2022), Miss Allen was awarded the highest MAP growth of all her students in Mathematics, which afforded her the opportunity to serve as a demonstration classroom teacher. In this, Miss Allen was able to lead Professional Learning Communities (PLCs) and facilitate teacher training and workshops, modeling effective instructional strategies.


Prior to joining APS in 2019, Miss Allen had a multitude of students in the area of Mathematics throughout the country and the world. In her 14 years of teaching, Miss Allen has taught sixth and seventh grade at Annapolis Middle and Argyle Magnet Middle in Annapolis and Silver Spring, Maryland; seventh and eighth grade at Explore Charter in Brooklyn, New York; high school at Kamaile Academy Public Charter in Waianae, Hawaii; and seventh grade at Grace Leadership Preparatory in Fort Lauderdale, Florida and Linda Lentin K-8 Center in Miami, Florida. In 2014, Miss Allen traveled to Indonesia to teach English as a Foreign Language (TELF) to kindergarteners and fifth graders in Ubud, Bali. Miss Allen holds a bachelor's and master's of science from Salisbury University and McDaniel College respectively, as well as a gifted education endorsement from Metro RESA.


Miss Allen was born in Heidelberg, Germany, and raised near Baltimore, Maryland, and comes from a military family. She is the daughter of two sergeants in the United States Army and has visited over fifteen countries in her lifetime. In 2011, she was a cheerleader on the NFL Champion Baltimore Ravens cheerleading team. When she isn't teaching, Miss Allen volunteers her time facilitating ACT and SAT prep sessions for high school athletes at Maynard Jackson High. She also enjoys trying new restaurants around Atlanta, going to yoga classes, hiking, reading, and spending time with family and friends.